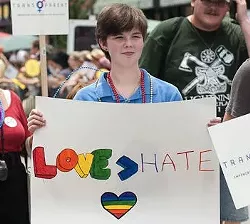 For the first time ever, the St. Louis Metropolitan Police Department will run a booth at PrideFest this weekend as a way to promote LGBT recruitment on the force.
"It only makes sense as we try and recruit officers for the department that are reflective of the community we serve," St. Louis Metropolitan Police Chief Sam Dotson tells Daily RFT. "This is an opportunity to target our efforts specifically into this community and we're excited and happy to do it."
Dotson says he has made a concerted push to reach out to LGBT groups in recent weeks to discuss relevant crime issues -- and to encourage more gay and lesbian people to consider joining the department.
See also: - Mayor Francis Slay Says LGBT Issues Will Be a Priority in Historic Fourth Term - Jay Nixon Praises Supreme Court Ruling, But Does He Support Gay Marriage? - PrideFest St. Louis 2013: No Pets Allowed!
Dotson says he has appointed one of his officers as a liaison to the LGBT community and held a meeting recently with several key organizations, including representatives from PROMO, the statewide advocacy group.
"What I try and do as the chief is mainstream everybody," Dotson says. "If it affects the gay and lesbian community, it affects the entire community."
Some of the concerns from LGBT groups have centered on how the department responds in the case of a hate crime, he says.
"If there is a crime that occurs and there are indications that it is a biased crime targeting their community specifically...we will put the resources in it to investigate it," Dotson says.
He says he is also interested in exploring possible LGBT-specific training "so officers become more aware of how to service those particular members of the community."
Joining PrideFest with a recruiting booth is a small way to support these commitments, Dotson says, noting that the department is also pushing the initiative on social media:
"It's the right thing to do. So it's easy," says Dotson, who stepped up as chief in January. "It'll be a theme you hear throughout my tenure as chief whether it's with the gay and lesbian community, whether it's with the African-American community, the new American community."
As we reported last week, police officials met with representatives of the Bosnian community, partly in response to two tragic shootings this month that claimed the lives of immigrants who came to St. Louis for a better life.
Dotson says the department has two or three recruit classes every year, which are each around 30 to 40 individuals. "We are constantly recruiting and I want a police department that's reflective of the community we serve on every level."
He says the department does not maintain statistics on LGBT officers, but notes that he will be marching in the parade alongside other cops who want to celebrate their identities.
He adds LGBT residents aren't just visible in "side street bars" anymore in the city, but that they have a large presence in many neighborhoods.
"That's our city. That's who we are," Dotson says, adding, "I'm not doing it for some political purpose. I'm being sincere and honest.... This isn't some one-time stunt. This is the way I view the future for the department."
Send feedback and tips to the author. Follow Sam Levin on Twitter at @SamTLevin.