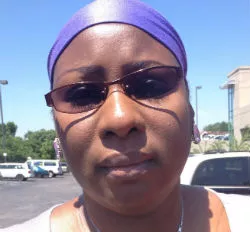 Courtesy of Sall
Adiaratou Sall, in the headscarf she was wearing when the incident happened.
Adiaratou Sall, a 46-year-old Hazelwood resident, has been a customer at Gateway Metro Federal Credit Union for ten years. Sall also happens to be Muslim and wears a headscarf whenever she is in public, which, until recently, has not been a problem.
Last week, however, when she went to the bank's north county branch in Florissant to make a deposit, a teller had a surprising message for her: "'You need to remove your headscarf before I finish the transaction,'" Sall recalls to Daily RFT.
"I was really, really hurt," Sall says. "I've never experienced that. They treated me like I was the bank robber."
Why was she denied service? The credit union says it's enforcing a strict clothing policy to deter robbers -- and that it won't make any exceptions.
See also: - Muslim Cab Driver Says Taxi Officials Still Harassing Him Over Religious Garb - Cabbies Allowed to Wear Blues Gear As Muslim Driver Fights to Wear Religious Garb - Francis Slay Courts Muslim Voters With Weekend Fundraiser For Mayoral Campaign
"I can't expose my hair in public, because I'm a Muslim," Sall says. "I wear it nonstop."
Sall, who has three daughters and works as a hair braider, adds, "I feel really offended. You don't treat people like that. I'm not the enemy."
Courtesy of Sall
Adiaratou Sall.
Larry Pixley, the credit union's president and CEO, tells Daily RFT that his company's policy is very clear: "No hats, no sunglasses, no hoodies...no exceptions."
The rule, he says, applies to "anything that is covering the head."
He says that the credit union has maintained this policy for many years, but that in response to recent robberies, has been enforcing it more strictly.
"By no means is this any type of religious issue," Pixley says. "We have to ask everyone to remove their hats."
Pixley says that over the last year-and-a-half, the credit union has experienced seven or eight robberies, adding, "Some of our robberies have been pretty dramatic."
If someone does not like the policy, there are alternative options, he argues.
"If it's uncomfortable to take it off, there are other means to do transactions -- the ATM, free internet banking," he says. "We have members completely out of state. They don't come in."
Pixley also argues that it would be unfair to make any exemptions.
"I don't know how to determine somebody's religion just by what they're wearing," he says, adding, "How do I know who is a threat nowadays?"
Sall, whose story was first reported by KSDK (Channel 5), tells us that after the incident last Wednesday, she ended up going to the credit union's west county branch and did not have any problems.
When she followed up to complain about her first experience, however, officials with the company told her that it was wrong for employees to allow her in with her headscarf and that they would be strictly enforcing the policy at all of their branches.
A representative, Sall recalls, told her, "'I just wanted to let you know it doesn't matter who you are, whoever has any little thing in their hair, we can't serve you. You have to go use the ATM.'"
Sall, however, says she doesn't feel safe using the ATM outside and that she is a longtime customer who should be allowed to go inside the bank without compromising her religious practices.
Credit union in south county.
"I can understand they need security. I need security with them, too," says Sall, who is originally from Senegal and has lived in St. Louis for eleven years. "But don't put it on the customer."
Sall says she has been in the United States for more than two decades. "I have never experienced any kind of discrimination.... To me, the United States is better than that."
She says she is hoping that they can resolve this and continue to use the credit union -- but recognizes she may ultimately have to choose a different bank.
Pixley reiterates that this is not an ideal situation, but that it is necessary.
"It's sad, it really is, that we have to put the good members through all of this," he says. "I'm not trying to discriminate.... But this is for the safety and concerns of the members and the employees."
Send feedback and tips to the author. Follow Sam Levin on Twitter at @SamTLevin.