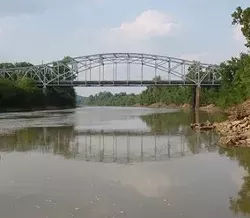 A driver pulled over for speeding early this morning on Highway 21 parked his car on the bridge over the Meramec River -- and jumped.
"He went straight from the vehicle over the edge of the bridge and into the river," Lt. Robert Wolf of the Missouri State Highway Patrol tells Daily RFT this morning, adding, "The search continues."
Wolf says an officer pulled over the driver at about 1:38 a.m. and that there was no pursuit of any kind. But as soon as the car parked, he says, the man jumped out without even opening a door. "The driver slid across to the passenger seat and jumped through the window and into the Meramec River."
Wolf says that a search began immediately for the man and that the Mehlville Fire Protection District, the highway patrol's marine division and police helicopters have all been working to locate the man.
He says that around 5:30 a.m. they were forced off of the water temporarily due to storms, but resumed the rescue mission a short while later -- and have not yet located him.
Wolf has no other details at this time to offer about the man and says he can't confirm his identity or whether he was the owner of the vehicle in question.
There was no clear reason why the man fled.
"It was simply a traffic stop for speeding," Wolf says.
Based on the Post-Dispatch's latest report, it appears that a dramatic scene is unfolding at the river. The paper has identified the driver as Jeff Henning of Fenton, apparently based on testimony from his mother Mary Henning of Imperial. Troopers, the mom told the paper, had called Jeff's father early Wednesday.
Relatives are reportedly gathered along the riverbank watching the search.
Send feedback and tips to the author. Follow Sam Levin on Twitter at @SamTLevin.