Courtesy of Sara Weichold
Cary Ball.
The case of Cary Ball Jr., the 25-year-old St. Louis student fatally shot by two police officers in April, has attracted the attention of Freeman Bosley Jr., the former mayor of the city who is leading a wrongful-death lawsuit against police.
Ball's grieving relatives, now represented by Bosley, yesterday filed a petition against the St. Louis Board of Police Commissioners and three officers, alleging that Ball was a victim of excessive force and police negligence.
"I just don't want this to happen to any other kid or for another family to have to go through this," Toni Taylor, Ball's mother, tells Daily RFT. "I want those officers arrested, charged and convicted."
See also: - Cary Ball: Family Wants Cops Who Killed Man Removed, Charged - St. Louis Cops Shoot, Kill Armed Man During "Hot Spot" Patrol Pursuit - Lure Asks Former St. Louis Mayor Freeman Bosley Jr. to Assist in Nightclub Dispute
A spokeswoman for the St. Louis Metropolitan Police Department declined to comment to Daily RFT yesterday, citing department policy on pending litigation.
As we reported earlier this month, Ball's family and the police department have offered different accounts of what happened on the night of April 24 when cops ended up shooting and killing Ball during a police chase.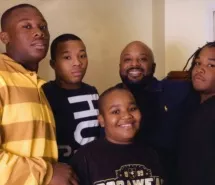 Courtesy of his family
Cary Ball, left, with his father and siblings.
Since his death, Ball's family members and supporters have staged numerous protests urging the department to remove these officers -- and pressuring Circuit Attorney Jennifer Joyce to charge them. (Daily RFT learned last month that the two cops returned to work after a standard period of administrative leave.)
According to the family, Ball tried to flee cops, ultimately surrendered -- and was needlessly shot.
The official police summary of the shooting, involving a 32-year-old male officer with seven years on the force and a 29-year-old male officer with five years, notes that Ball was armed with a "loaded .40 caliber semi automatic gun with an extended magazine" that had been reported stolen. Once a foot pursuit began -- and this is the key difference in the police account -- the report says they ordered him to drop his weapon and Ball refused. That's when they shot him "fearing for their immediate safety," police said after the incident, which happened on the 700 block of Carr Street in the Columbus Square neighborhood.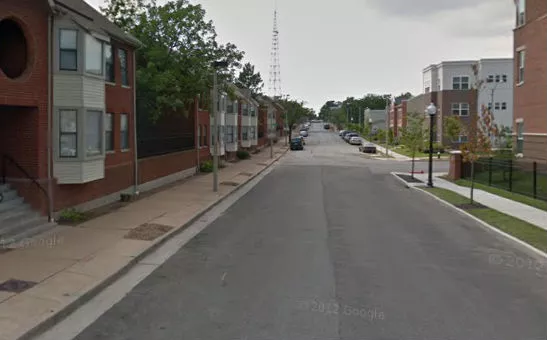 via Google Maps
Carr Street where the shooting took place.
The new suit, however, says that this is an inaccurate account, and that his death was unjust. Of the moment he was shot, the complaint, full document on view below, says:
While running down Carr Street, with their weapons drawn, Defendant officers yelled for [Ball] to stop which he did. [Ball] stopped and surrendered with his hands in the air; however the officers began shooting the plaintiff at close range. [Ball] fell to the ground and the two officers stood over him and continued firing shots ultimately shooting the Plaintiff over 20 times until he was dead.
The suit alleges that the cops pursued Ball "merely for committing a traffic violation" and that the cops involved were negligent, as was their sergeant. (The suit does not identify the three officers by names.)
Cary Ball, at a recent student-advocacy event in Jefferson City.
The complaint also alleges that the two cops who fired the shots committed battery by shooting Ball "over twenty times unjustifiably with the specific intent to cause bodily harm."
And the suit accuses the officers of excessive force:
Police Officer John Doe and Police Officer James Doe's conduct were outrageous and shock the conscience.... [Ball] suffered an unreasonable and unjustified death in violation of the Fourth Amendment to the United States Constitution.
The suit is brought on behalf of Ball's parents and his four-year-old daughter Chanell Williams and seeks a minimum of $25,000 in damages, which is the standard amount. The petition notes that funeral expenses cost the family $6,000. (Daily RFT also left a message with Bosley, now an attorney with Bosley and Associates, to see if he wanted to comment further on the suit; we'll update if we get a chance to speak with him.)
Ball, as we noted in our earlier coverage, does have a criminal history and was released from prison in May of 2012. But his family says he was turning his life around and that he was an honors student with a 3.86 GPA at Forest Park Community College, majoring in human services.
Damages won't bring her son back, but Taylor, 43, tells us the suit could give the family some kind of closure.
"It's been really hard to process everything," she says, noting that it has been exactly two months since her son died.
Continue for more comments from Toni Taylor and for the full petition.
Taylor says the cops deserve to face trial and must admit to their actions that evening. "I would love to know what happened that day.... With answers, it would help me find some peace."
She adds, "This is more of a human issue. No one has to get shot twenty or more times."
via Facebook
Circuit Attorney Jennifer Joyce.
Here is the full complaint from Bosley, followed by the short incident summary from SLMPD back in April and a full statement from Circuit Attorney Jennifer Joyce issued earlier this month in response to protests.
SLMPD incident summary:
Incident: Officer Involved Shooting Location: 700 block of Carr Date/Time: 4/24/13 @ 21:37 Victim #1: 32-year old male, 7 ½ years on police force - St. Louis Police Officer Victim #2: 29-year old male - nearly 5 years on police force -St. Louis Police Officer Suspect: Cary Ball, 25-year old black male of the 3800 block of Blaine Officers were patrolling the area in and around Cole Street and 9th Street when they observed a gray vehicle, which had previously fled from other officers, travelling at a high rate of speed and being operated in an erratic manner. The officers attempted to stop the vehicle when it struck a parked vehicle in the 1000 block of 9th Street. The suspect, who was the driver, exited the vehicle and fled the scene on foot. The passenger remained in the vehicle. Officers initiated a foot pursuit of the suspect which proceeded towards the 700 block of Carr. The suspect produced a gun and pointed the weapon at the officers. Officers drew their department issued weapons and verbally ordered the suspect to drop his weapon. The suspect refused and the officers, fearing for their immediate safety, discharged shots, striking the suspect in the torso and arms. The suspect was conveyed to a local hospital where he was later pronounced deceased. Officers recovered the suspect's weapon, a loaded .40 caliber semi automatic gun with an extended magazine. Investigation revealed that the gun had been reported stolen. As is department policy, the two officers have been placed on administrative leave. The investigation is ongoing.
Joyce's statement.
Send feedback and tips to the author. Follow Sam Levin on Twitter at @SamTLevin.