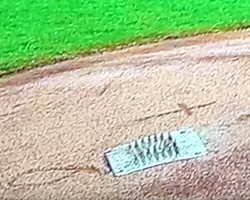 All images courtesy of Michael Vines
Christian symbols on the mound at Busch?
A few weeks ago, Daily RFT got an e-mail from a reader and lifelong Cardinals fan who, while watching the games this season, had noticed something he hadn't seen before on the pitcher's mound. Right near the cleat scraper, etched into the dirt, there appeared to be a Christian cross and fish symbol.
Michael Vines, who was born and raised in St. Louis, tells us he thought this was unusual and decided to look at some past footage from this season -- and noticed that these symbols were on the mound on many different occasions.
"That's when I realized they were doing it all year," he says. "I hadn't noticed. I was shocked I hadn't noticed."
Vines sent us a handful of images from various games showing the cross and what appears to be the fish symbol -- both of which he argues are not appropriate for a baseball stadium.
Here's another photo. More evidence below.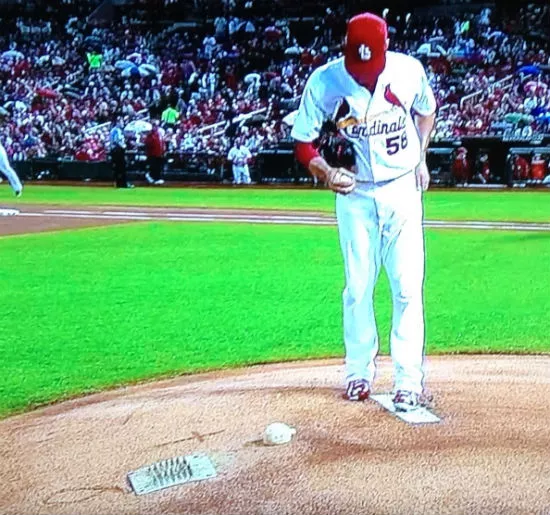 When Daily RFT first mentioned it to a Cardinals spokesman earlier this month, he told us he personally had not noticed or heard anything about it, but said he would try to look into it. We haven't gotten any additional information since.
See also: - Worst Cardinals Fans Ever: Homophobic, Racist, Offensive Tweets Catalogued - Sports Illustrated Cover Draws On 1968 Lou Brock, Roger Maris, Bob Gibson Photo - Ballpark Village: Cardinals Move Forward With Construction, Release Renderings
Meanwhile, Derrick Goold at the Post-Dispatch had a very short item in a Sunday article titled "MOUND TRIBUTE" that references the cross:
Several times this season the Cardinals starter has gone to the mound to find subtle symbols scratched on its backside, near the rubber spikes used to scrub off dirt. "They've been there every time for me," ace Adam Wainwright said. To the left of the spikes is a Christian cross and just below it is a looped figure. It's a "6" for Stan Musial, the Cardinals great who died in January. A member of the grounds crew puts the symbols on the mound for most home games.

The Cardinals have been one of the few teams not to adopt the trend of stenciling a team logo on the backside of the mound, where television cameras see it for every pitch.
Vines had apparently also alerted the P-D to these symbols and in response to the Goold piece, argues it's pretty clear that it's not a "6" but rather the fish symbol. And over the weekend, he sent Daily RFT and the P-D a follow-up letter, which is on view below, arguing that it's wrong for the Cardinals to display "religious iconography on the infield at Busch Stadium, a place of hallowed ground not just for Christians, but for Cardinal fans of all religions, including none at all."
His argument is that it's not appropriate given that the team owners are the beneficiaries of ticket and real estate tax abatements; he says that though the team and stadium are privately owned, they are "civic institutions."
We've printed the full letter below.
When we first spoke with Vines on the phone earlier this month, he told us that his gripe is not with the fact that they are Christian images, but that he belives there shouldn't be religious symbols of any kind on a baseball field.
"How come nobody's mentioning this?" he says. "It's totally inappropriate."
Continue for the full commentary from Michael Vines and for more evidence of these symbols.
Vines argues that there are "plenty of Major League Baseball players who don't want that in their face.... There may be Christian Cardinals who don't like it."
Vines is Jewish but says he would not want a Star of David on the mound either.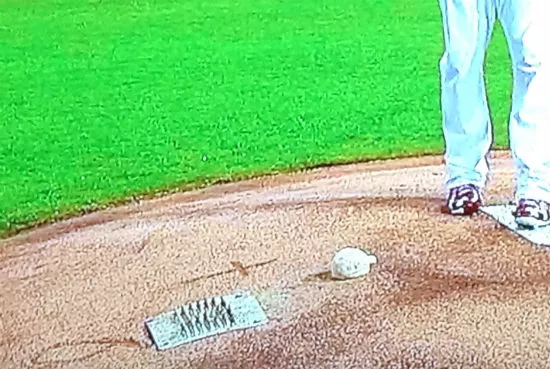 "You don't have to be Jewish to be offended," says Vines, who now lives in New York City, but says he never misses a Cardinals game.
The Christian faith of Cardinals players is widely documented.
Some will argue the symbols are fairly innocuous, given that they've gone largely unnoticed and even disappear as a game progresses. But Vines tells us that it's poor judgment to have these symbols on the field at all.
"Just because you have the right to do something doesn't mean you should do it," he says.
What do you think, readers? Have you noticed the symbols before? Do you think they're appropriate -- or crossing a line? Let us know in the comments!
Here is Vines' full letter.
Derrick Goold wrote a piece in StLToday.com (June 23, 2013) about a Christian cross etched into the dirt of the pitcher's mound at Busch Stadium. It was I who called attention to the cross, along with what I took to be the image of something commonly known as the "Jesus fish" also scratched into the mound. Goold says that the latter is the number "6", a tribute to Stan Musial. If so, it's a very oddly shaped "6" (see attached photo) and, considering its proximity to the cross, would seem to be serving a dual purpose.

Goold lead his piece with the headline "Mound Tribute," as if there were nothing inappropriate about displaying religious iconography on the infield at Busch Stadium, a place of hallowed ground not just for Christians, but for Cardinal fans of all religions, including none at all.

And there's this to consider. According to the Post (http://bit.ly/1caTLMW), team owners are the beneficiaries of ticket and real estate tax abatements that will save them $143 million in payments to the city over 25 years, as well as $54 million in state incentives and a $45 million county loan.

The team and stadium may be privately owned, but a they are civic institutions. Out of respect to a devoted and diverse fan base who also has some skin in the game, not to mention a diverse group of players, ownership has a responsibility and obligation to prohibit religious symbols of any kind from being placed in the field.
Send feedback and tips to the author. Follow Sam Levin on Twitter at @SamTLevin.