Courtesy of Alexander.
Trudi Alexander.
Earlier this month, we published a list of the top ten most common complaints from transplants in St. Louis, which sparked a lot of passionate comments and a rebuttal from RFT's own native St. Louisans. We received quite a bit of feedback from readers in comments and letters -- and one of Daily RFT's favorites came from a woman named Trudi Alexander, who sent us an e-mail titled, "True Brit comes to St Louis (A Transplant's Tale)."
That's right, a transplant all the way from London, who, as it turns out, really likes living in St. Louis -- and plans to stay.
"I'm really adapting quite well," Alexander tells Daily RFT. "The people are incredibly nice and helpful."
See also: - Top 10 Reasons Transplants Criticize St. Louis - Rebuttal: 10 Reasons St. Louis Hates Outsiders - 25 Reasons to Love Summer in St. Louis
Alexander, who is in her 50s and moved to Frontenac last fall to live here with her husband, says she never imagined she would leave England, much less end up in the midwest.
The two met a decade ago in England, where Alexander was born. She is from a rural part of the country but most recently was living in London.
"I knew how to do everything in my own country," she says, "...and then I'm dragged to a new continent. It has been so weird."
But since her move, despite some difficulties adjusting to all sorts of unfamiliar American customs, she's enjoyed her time here -- and thinks she might stay in St. Louis for awhile, she says.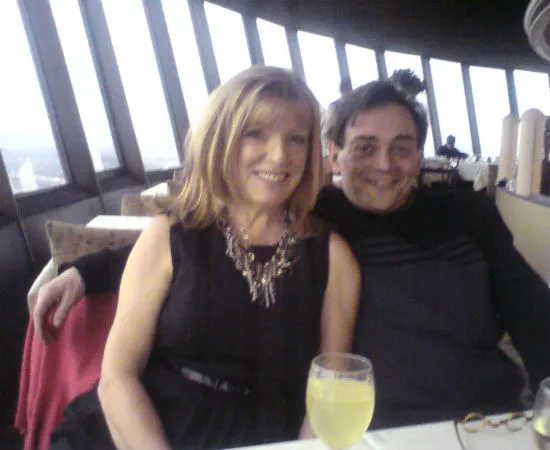 Courtesy of Alexnader.
Trudi Alexander and her husband at the Millenium Hotel revolving restaurant on Christmas.
Her husband, who, she says loves St. Louis and had previously worked at Washington University, was last year appointed as a Saint Louis University dean.
"He's always wanted to come back to America," Alexander says. "I must admit, I did not want to come at all."
She had only visited the United States once before she made the move last November, just in time for Thanksgiving, she says.
"To say I experienced culture shock would be an understatement and to console myself I posted little articles on Facebook poking fun at the local customs for the amusement of my British friends," Alexander wrote to Daily RFT in her original e-mail. "But now I have American friends and so I tend not to do that any more. How did I make friends in St Louis? I found it easy, actually. American people are very friendly and helpful compared to my wonderful British counterparts. Whenever anyone said 'we must go to lunch sometime' I would reply 'Absolutely! When exactly?'. It's not in a Brit's nature to be as forward as this but needs must and I now have around 6 good female friends who I see regularly and my husband I probably have around a dozen couples who we are both friends with."
In a follow-up phone chat, Alexander admits it hasn't always been easy. Driving on the right side of the street, for example, is still quite a challenge. And she says people here are kind and wonderful "until they get behind the wheel of a car. And then they turn into insane psychopaths, really."
Some other observations she shares with us: Groceries are organized very differently, iced tea here is strange, lemonade is disappointing, tornadoes are quite frightening and the public transportation is pretty terrible. And she'll never quite understand why people like guns.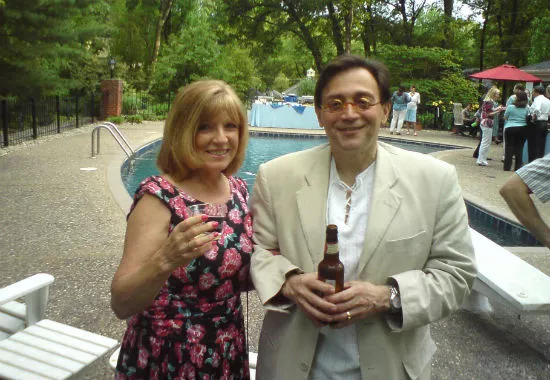 Courtesy of Alexander.
Trudi and her husband at a neighbor's daughter's graduation party. It was so kind of them to invite us - this is what I mean about St Louis hospitality," she says.
People also often try to make her feel at home with some pretty silly questions, she adds.
"They talk about Downton Abbey...or Kate Middleton's baby," she says.
But people she meets here are generous and hospitable in an unexpected way, she says.
"They invite me to their homes. We meet for lunch," she says. "They are much nicer than UK people are to strangers."
St. Louisans, she says, tell her all the time, "If you want to be driven around St. Louis, just give us a call."
She's very worried about the humidity, she admits, but she's enjoyed going to the zoo, to local wineries, to community centers and to the symphony -- where, she notes, it is actually possible to park.
Alexander loves the local parks, especially Creve Coeur Park, which she says has been great for cycling. She also notes that she's met a lot of people who enjoy various volunteering activities.
Back home, Alexander used to run a horse riding center, and now she is looking for part-time work as a secretary or receptionist.
In the meantime, she says she is successfully making friends. "I am so lucky that people have taken me under their wing."
She adds, "We will be here for a long time."
Send feedback and tips to the author. Follow Sam Levin on Twitter at @SamTLevin.