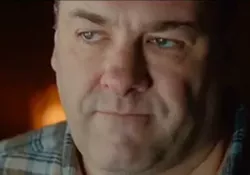 This is James Gandolfini. He has passed away. We're not sure who KSDK is talking about.
By now, most people have heard that James Gandolfini, the actor who portrayed mob boss Tony Soprano on The Sopranos, died suddenly of a heart attack in Italy. This news sucked. He was only 51.
Local station KSDK (Channel 5) covered news of Gandolfini's death and the impending return of his remains to the U.S. ... or did they? According to a screengrab taken by an editor for Deadspin over the weekend, KSDK mixed up a few of their facts during their report.
Like, Gandolfini's name. And what the incredibly famous man looked like.
See also: - No One in St. Louis Knows How to Spell "Zach Galifianakis"
Here's what writer Timothy Burke tweeted yesterday, the image below attached:
Who? Either someone seriously screwed up here or this is the world's biggest coincidence (and in that case, we send the Gadolini family our sincerest condolences).
Tony is not amused:
This reminds us of that time that Zach Galifianakis came to St. Louis and no one ever tried to spell his name right. Only this is sadder.
Follow Jessica Lussenhop on Twitter at @Lussenpop. E-mail the author at Jessica.Lussenhop@RiverfrontTimes.com.