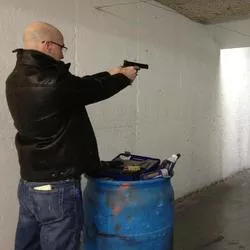 Does Missouri have the most extreme states' rights effort in the country?
An analysis published by the Associated Press today suggests that lawmakers in Missouri have advanced legislation that may very well be the "most extreme example of a states' rights movement that has been spreading across the nation." The proposal in question is the initiative to criminalize the enforcement of federal gun laws in Missouri, a Second Amendment bill we've covered closely as it has progressed all the way to the governor's desk.
"This bill...doesn't do anything to reduce gun violence, and that's the real tragedy," Sean Soendker Nicholson, executive director of Progress Missouri, tells Daily RFT.
What the legislation will do, however, is open up Missouri to expensive legal battles, critics say. That is if Governor Jay Nixon, a Democrat, does not veto the measure.
Nixon has to decide over the next month whether he will block House Bill 436, the so-called Second Amendment Preservation Act, which rejects all federal laws that infringe on Missourians' rights to bear arms.
Governor Jay Nixon, right.
The final version of the bill not only makes it illegal to enforce certain federal laws, but it also sets forth policies about guns in schools and, according to some, puts in place restrictions on First Amendment rights when it comes to publishing names of gun owners.
"Certainly, we have seen a bunch of unserious proposals like this that are about grandstanding and not about public policy that will make anyone safer," says Nicholson, whose group has been pressuring Nixon to veto the measure.
Opponents of the legislation say that Missouri legally cannot block federal law and that the bill, if signed by Nixon, would force the state to go to court.
"The state's going to have to pay for the legal bills," Nicholson says. "They are going to have to pay money to defend a bill that's obviously unconstitutional, and we're not any closer to reducing gun violence."
via Facebook
Progress Missouri campaign to push for a veto.
The AP story puts the Missouri bill in context with states' rights efforts throughout the country:
The Missouri legislation is perhaps the most extreme example of a states' rights movement that has been spreading across the nation. States are increasingly adopting laws that purport to nullify federal laws - setting up intentional legal conflicts, directing local police not to enforce federal laws and, in rare cases, even threatening criminal charges for federal agents who dare to do their jobs.

An Associated Press analysis found that about four-fifths of the states now have enacted local laws that directly reject or ignore federal laws on marijuana use, gun control, health insurance requirements and identification standards for driver's licenses. The recent trend began in Democratic leaning California with a 1996 medical marijuana law and has proliferated lately in Republican strongholds like Kansas, where Gov. Sam Brownback this spring became the first to sign a measure threatening felony charges against federal agents who enforce certain firearms laws in his state.
The United States Attorney General, the report notes, has made it clear that it is willing to take states to court over proposals like the one in Missouri -- with the argument being that a state may not prevent federal employees and officials from carrying out their duties.
Missouri's legislation may be one of the most extreme, in part because of its wide scope in nullifying past, present or future laws and regulations regarding firearms:
Federal authorities in the western district of Missouri led the nation in prosecutions for federal weapons offenses through the first seven months of the 2013 fiscal year, with Kansas close behind, according to a data clearinghouse at Syracuse University.

Felons illegally possessing firearms is the most common charge nationally. But the Missouri measure sets it sights on nullifying federal firearms registrations and, among other things, a 1934 law that imposes a tax on transferring machine guns or silencers. Last year, the federal government prosecuted 83 people nationally for unlawful possession of machine guns.
Supporters in the legislature seem to recognize that the bill is unique. Republican State Senator Brian Nieves in a tweet after its passage called it "the most Hard Core 2nd Amendment Bill, perhaps in the country."
During the legislative session, Daily RFT spoke with proponents of these measures who argue that gun control is not constitutional even if Barack Obama says it is and that many Missourians support these important Second Amendment protections. Still, even some Republican lawmakers recognize that it may be legally problematic.
Even if Nixon vetoes the measure, Republican lawmakers might be able to override it and pass it anyway.
Here's the final draft of the bill now sitting on the governor's desk.
Send feedback and tips to the author. Follow Sam Levin on Twitter at @SamTLevin.