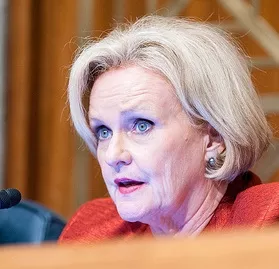 via Flickr
Claire McCaskill at the hearing yesterday.
U.S. Senator Claire McCaskill is making national headlines again, and this time it's not over her "War on Men" or her very early support for Hillary Clinton.
Yesterday at a Senate hearing, the Missouri Democrat revealed that the contracting firm which conducted a security clearance background check for Edward Snowden -- who famously leaked National Security Agency information -- is under active criminal investigation.
"It takes one incident for all of us to realize that here is a whole area of the government that most Americans have no idea and most members of Congress have no idea how this actually works, and the more we dig in, the more we realize more work needs to be done," McCaskill said. Video below.
See also: - Claire McCaskill Endorses Hillary Clinton For President - Claire McCaskill Accused of "War on Men" by WSJ - Claire McCaskill Supports Gay Marriage
This probe could prove to be very significant in the ongoing story of Snowden's disclosure of intelligence regarding NSA's surveillance of Americans' phone records.
McCaskill led the hearing yesterday, scrutinizing how the federal government conducts and oversees investigations to determine who is eligible to access classified information.
via Flickr
Claire McCaskill at the hearing yesterday.
Her office explains that military service members, federal employees and contract personnel must obtain security clearances and that the background investigations cost the federal government around $1 billion in 2012. Some are done through contractors like the private firm USIS, which now, according to McCaskill's office is facing some sort of criminal investigation. (You can read USIS' short response here.)
It's unclear if Snowden's leaks prompted this investigation, but McCaskill outlined the timeline like this:
We have received information that USIS is currently under criminal investigation by the Office of Personnel Management Inspector General. We have also received information that this investigation is related to USIS' systematic failure to adequately conduct investigations under its contract. We have also learned that USIS conducted a background investigation for Edward Snowden in 2011, part of the time period that is under review.
McCaskill, who is the chair of the subcommittee on financial and contracting oversight, says in a statement sent out by her office, "We know that USIS is a contractor under investigation, we know Snowden got his clearance from USIS -- and we know that their investigation encompasses the time he received his clearance. We need answers."
Send feedback and tips to the author. Follow Sam Levin on Twitter at @SamTLevin.