via kmov.com. Video below.
Susila Rai and her newborn daughter.
Mon Rai, a 29-year-old refugee, left Nepal last year to start a new life with his family in St. Louis. And this week his wife gave birth to their baby daughter Rachel, the couple's second child.
She will grow up in America without her father.
Rai, a clerk at a St. Louis 7-Eleven, was the victim of a tragic shooting one week earlier, when an unidentified suspect fired shots inside the Gravois Avenue store just after midnight. Rai left behind his pregnant wife and an eight-year-old son, whom he brought to St. Louis after living in a refugee camp for nineteen years.
"We know that the family is going to need financial support for many months ahead," Suzanne LeLaurin, of the International Institute of St. Louis, tells Daily RFT. "Mon Rai was the breadwinner of the family. Any support the community can give would be appreciated."
See also: - Mon Rai: Refugee Killed In 7-Eleven, Leaves Behind Son, Pregnant Wife - Mon Rai's Heartbreaking Essay About St. Louis: "My Heart Was Full Of Hopes" - Police Release Images Of Suspect, Witness In 7-Eleven Shooting (PHOTOS)
LeLaurin is the senior vice president for individuals and families at the institute, which works with local refugees and sponsored Rai to come to St. Louis in September of 2012.
Since his death the institute has been supporting the family by organizing donations -- and LeLaurin says that many from St. Louis and beyond have been reaching out.
International Institute/Wayne Crosslin
Mon Rai.
Rai was a Bhutanese immigrant who'd spent two decades on a refugee camp in Nepal. He was enrolled in an advanced English course at the institute and had penned an essay about his hopes and dreams for starting a new life in Missouri after living under such difficult conditions on the other side of the world.
"There was such an outpouring of support from the general St. Louis community and even the Bhutanese community around the country," says LeLaurin, who attended Rai's funeral over the weekend, where she gave a brief speech.
"We have to rely on our faith to get us through difficult times like this," she says.
On Monday Rai's wife, Susila Rai, 25, gave birth to their daughter Rachel: the first member of the family born in the U.S.
KMOV-TV (Channel 4) has this heartbreaking interview from the hospital, in which the widow explains how difficult and painful her life will be without her husband:
Rachel, she told the station, looks like her father.
"Anytime I see face of my children I think about him," she said through a translator, adding, "In my family, my husband was the only one who could speak English and take care of paperwork. Nobody in the family is as good as him."
LeLaurin, echoing comments she made at the funeral service, tells Daily RFT, "We know it seems kind of trite to say it, but the circle of life is really evident in this family bringing a new child into the world."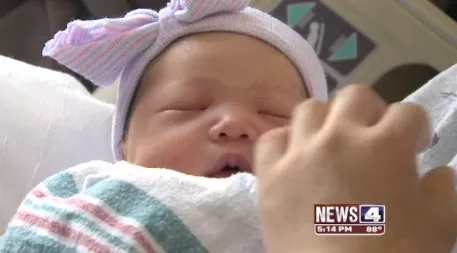 The girl was born just a week after Mon Rai was killed, the start of an unusually violent week for St. Louis. Police have since released blurry surveillance photos from the night of the fatal shooting on Gravois Avenue and Bates Street, but officials have not yet apprehended a suspect.
Police ask anyone with information to call CrimeStoppers at 866-371-TIPS.
SLMPD
Suspected 7-Eleven shooter.
Meanwhile, the Rai family, through the institute, continues to accept donations, which will undoubtedly be very useful in the coming weeks and months.
The institute has set up an account called "Funds for Mon Rai Family" at Southern Commercial Bank at 5515 South Grand Boulevard. Donors can call 314-633-6017 for more information. Supporters interested in donating online can do so via the institute's website (or here directly).
Individuals who would like to donate material goods can drop them off at the International Institute (3654 South Grand Boulevard) by first calling 314-773-9090, ext. 163. The institute says the family has requested items for the newborn including diapers and baby wipes. Other needs include laundry detergent, toys for Mon Rai's son and clothes and personal-care items for the family. Any donations the family doesn't need will go to other refugees, the institute says.
Send feedback and tips to the author. Follow Sam Levin on Twitter at @SamTLevin.