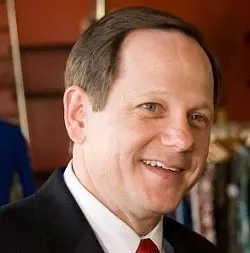 via Facebook
Mayor Francis Slay.
St. Louis mayor Francis Slay is not coming out in favor of the infamous soda regulations in New York City -- but he is considering a related idea. That is, he supports an exploration of potential limitations or bans on the purchase of sugary drinks -- with food stamps. Slay this week signed a letter alongside New York City mayor Michael Bloomberg and sixteen other U.S. mayors, asking the federal government to evaluate approaches to food-stamp subsidization of sugary beverages.
"He believes that the food stamp program should promote healthy choices and healthy lifestyles," Slay spokeswoman Maggie Crane tells Daily RFT.
Unlike Bloomberg, he is not pushing for any ban at this time, Crane says, but adds, "He thinks it should be looked at."
See also: - Barack Obama Interrupts Mayor Francis Slay's Workout to Congratulate Him - Mayor Francis Slay on Historic Reelection: "This Was Anticlimactic" - Marijuana: St. Louis Aldermen Pass Reform Bill, Mayor Francis Slay To Sign
"It's more about incentivizing healthy eating than it is about punitive measures," she says.
She points out the letter (on view below) from the group of mayors -- sent to the United States House of Representatives speaker and minority leader -- has only a short mention of sodas, in reference to Supplemental Nutrition Assistance Program (SNAP), the federal food-stamp program:
It is time to test and evaluate approaches limiting SNAP's subsidization of products, such as sugar-sweetened beverages, that are contributing to obesity.
The letter goes on to say, "At the same time, SNAP can also promote healthful eating by providing incentives for the consumption of fruits and vegetables by SNAP recipients, similar to the programs which have been successfully piloted in many of our cities that provide additional spending power to recipients who use their benefits at farmers markets."
The letter opens up with a plea to avoid cuts to SNAP, which is the main reason Slay signed it, Crane says.
Still, regarding new limits on soda, Crane tells us, "Mayor Bloomberg has a much more developed position on soda bans.... Mayor Slay is not quite there yet."
Bloomberg has gotten a lot of attention for his efforts to regulate supersize sodas in his city and has also in the past pushed for a ban on all soda and sugary drink purchases with food stamps.
Slay, in signing this letter, is simply saying he supports further evaluation of these types of efforts, his office says. And the mayor says debates on soda regulation are secondary to the wider discussions around obesity.
Crane adds in a followup e-mail to Daily RFT, "Food labeling and education is far more important than limiting one item. Just one product is not causing obesity in our region. It's a lifestyle issue, and making nutritional choices across the board. Education needs to be central to this."
Slay also posted this message on Facebook last night, emphasizing that talk of soda bans is not his focus:
I have joined mayors from across the country asking the federal government to study how food stamps are used. I strongly believe that the federal food stamp program should promote healthy choices and healthy lifestyles. That's why, for example, I support allowing food stamps to be used at farmer's markets. That's why I signed the letter.

Mayor Michael Bloomberg, who sponsored the letter, has his own issues of concern, one of which has attracted a lot of ink today.

Mayor Bloomberg has a much more developed position on soda and sugary drinks than I do. He supports a ban. I don't drink them myself, but I haven't yet gotten all the way to his position. And I am writing this because I don't want the local debate about food stamps and sugary drinks to overshadow a wider issue:

The federal government should develop a food stamp policy to promote healthy lifestyles, reduce obesity and reduce disease. It should look at and address the issue of soda and sugary drinks. That's what the letter we signed says. Some of the mayors who signed the letter are ready for a ban. Some of us are not there yet. But, all of us agree that the food stamp program should promote healthy choices, and should address the obesity epidemic in our country.
Here's the full letter from the mayors.
Send feedback and tips to the author. Follow Sam Levin on Twitter at @SamTLevin.