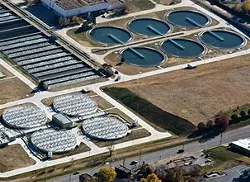 Lemay Wastewater Treatment Plant.
Sigh.
A broken valve at an Metropolitan St. Louis Sewer District pump station yesterday caused untreated wastewater to discharge into the River des Peres, officials say. That break happened less than three-quarters of a mile from the Mississippi River, eventually causing the discharge of wastewater from a site in south St. Louis county.
Given heavy rains, officials believe that the total volume that flowed could be up to 1 million gallons -- and as a precaution are warning residents to avoid contact with the rivers for the next two to three days.
See also: - VIDEO: Daredevil Swimming in River Des Peres Seen As Justification for Cleanup - Mississippi River Oil Spill: 14 Barges Break Away, 300 Gallons Unloaded - St. Louis Treatment Plant Failure: Sewage Still Entering the Mississippi
This wastewater problem comes just two months after a sewage-treatment plant failure caused millions of gallons to flow in the Mississippi River for several days.
This time, officials with MSD say that a pump station valve failed at the Lemay Wastewater Treatment Plant, which is by South Broadway Street and Hoffmeister Avenue. This caused the discharge to happen at a pump station near Fannie Avenue and River City Boulevard in south county.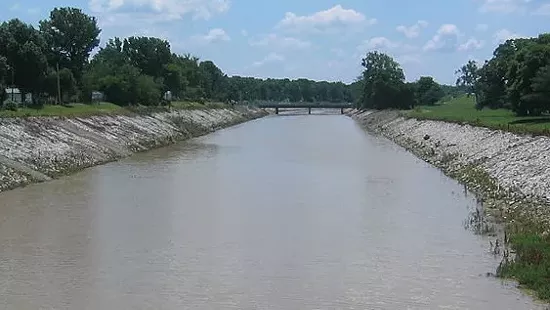 To make repairs, it was necessary to shut down the pump station with the faulty valve, MSD said in an announcement last night.
Those emergency repairs took about five hours, during which time untreated wastewater discharged into the River des Peres and then into the Mississippi River.
MSD says the exact volume remains unknown at this time, but officials are calculating the damage.
But because of rainfall in the St. Louis area over the last two days, the volume could be up to 1 million gallons.
The wastewater is quickly diluted upon entering the waterways, officials note, but nonetheless ask the public to avoid contact with these parts of the rivers for the next 48 to 72 hours.
The exact impacted areas are the River des Peres south of Fannie Avenue at River City Casino Boulevard and the Mississippi River near the mouth of the River des Peres.
MSD reported the discharge to the Missouri Department of Natural Resources, which will eventually file a report.
Send feedback and tips to the author. Follow Sam Levin on Twitter at @SamTLevin.