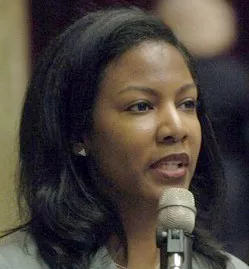 St. Louis Treasurer Tishaura Jones.
Four former employees of the St. Louis city treasurer's office are suing Tishaura Jones, who stepped up to the position in January, alleging that she terminated them for political reasons -- mainly that they had not supported her when she was running for office.
"They were fired because of their political allegiances to someone else," attorney Elkin Kistner tells Daily RFT. "Their First Amendment rights were violated."
Anthony Baker, Aubrey Morrison, Thomas Stoff and Andres Broussard, who all worked under former treasurer Larry Williams, are seeking damages from Jones' office through this wrongful termination suit, on view below.
Jones, however, says the accusations are completely false -- and that these employees lost their jobs as part of a productive reorganization she has orchestrated for the office.
See also: - St. Louis Treasurer: Employee Stole Public Money, Didn't Come to Work - Four St. Louis Treasurer Employees Allegedly Pocketed Parking Fees at City Lots - Treasurer Says Cupples 7 Will Face Demolition Without A Developer
"We of course deny the allegations," Jones tells Daily RFT. "We will have our day in court."
Jones, who was a Democratic Missouri state representative from 2008 to 2012, says, "We are reorganizing the office, and as the head of the office, I do have the authority and the right to make organizational changes where we see fit."
Since Jones stepped up in January, she has vowed to reform the department, which was plagued by a controversy involving a no-show employee who stole public money for his own gain. Since then, she has restructured the positions and also uncovered another fraud scheme involving four employees allegedly pocketing city parking fees.
Jones was served last week with this suit, which argues that the termination of these four individuals was essentially political retaliation. These employees were part of the upper-level staff of Williams, the former treasurer who retired after 30 years in office.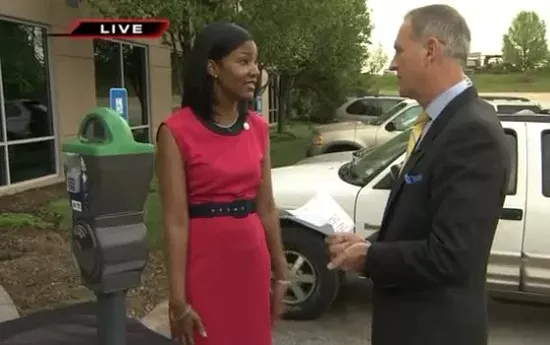 "Her stated basis for getting rid of them was legally insufficient," Kistner says.
He argues that while Jones claimed the positions they held were eliminated, in reality, she was really just looking to get rid of the four.
The suit says that these former employers are active in St. Louis Democratic Party politics and notes that in the primary election last summer, they each supported candidates other than Jones:
Each of the Plaintiffs has a right, protected by the free speech and assembly clauses of the First Amendment to the United States Constitution, to express his political views and allegiances, and to support participants in political processes, without suffering retaliation in his employment at the Treasurer's Office for having done so in a way that did not coincide with Defendant Jones' political interests and ambitions.
The suit says that their political activities were a "motivating factor" in Jones' decision to "purportedly eliminate their positions."
Kistner says that their letters of termination were inaccurate: "We don't think they're positions had been eliminated at all."
Jones, however, says that she has been working to better use the office's limited resources, which involves cutting certain positions. For example, she says, she restructured the on- and off-street parking positions into one role. (In March, the St. Louis Business Journal wrote in-depth about some of the changes she has instituted.)
"There was nothing political in nature," she says. "It had nothing to do with politics."
The suit says that Baker was the assistant treasurer for development and facilities services and a parking superintendent; Stoff was the assistant treasurer for parking service operation and legislative affairs as well as a parking superintendent; Broussard was an administrative assistant to the treasurer; and Morrison was an administrative assistant to the director of administrative services and a technician.
Attorneys are now reviewing the suit, Jones says, adding that it's a shame her office will have to waste money on fighting this.
"These are resources that could've been directed toward improving the efficiency of the parking division," she says, "and now will have to be directed toward defending lawsuits."
Here's the full petition.
Petition - Treasurer Tishaura Jones
Send feedback and tips to the author. Follow Sam Levin on Twitter at @SamTLevin.