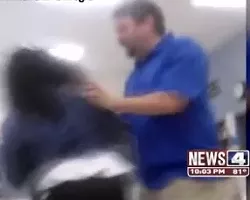 via kmov.com
Teacher shoving a student.
A video taken inside a classroom of St. Louis' Gateway STEM High School is a bit blurry, but clearly shows a male teacher throwing his desk down and shoving a female student -- twice.
The footage, on view below and first reported by KMOV (Channel 4), is reportedly of teacher Peter Sheppard, 33, who has since been charged with third-degree assault.
It's not clear what led up to this confrontation based on the quick footage -- but the shoving is well documented.
Here's the footage via KMOV, with the video from the classroom starting at the ten-second mark:
"I'm going to stand here until you take your hand down and look at me," the teacher says to the female student, who KMOV interviewed and identified as Stephanie White, sixteen.
At this point, White gets up with her backpack, prompting the teacher to pick up a desk and violently throw it down.
He then shoves her twice before she walks out of the room and he follows close behind.
The cell phone video from last Thursday is short, but on the surface appears pretty damning.
The probable cause statement from the St. Louis circuit attorney's office outlining the third-degree assault charge against Sheppard says that, according to the student, the teacher shoved her, which was confirmed by video footage.
In a statement sent to Daily RFT today, public school officials acknowledge that there are allegations against a Gateway employee, who was immediately placed on a leave of absence.
Here's that full statement followed by the probable cause document.
The Saint Louis Public School District is aware of allegations against an employee at Gateway STEM High School regarding an incident that occurred on June 13, 2013.

In keeping with District policy, upon learning of the incident, the employee was immediately placed on a leave of absence and the District reported the matter to local law enforcement and the Missouri Division of Family Services for further investigation. The District will respond to this personnel matter in accordance with District policy and State law to ensure the protection of our students.

Saint Louis Public School District staff members are committed to providing an excellent education in a safe, nurturing environment for all students. The safety of students is of the highest priority at all District schools.
Peter Sheppard Probable Cause Statement
Send feedback and tips to the author. Follow Sam Levin on Twitter at @SamTLevin.