Courtesy of Bray family
Patrick Bray.
Patrick Bray, a 51-year-old worker on the Blanchette Bridge rehabilitation project, was preparing this month for his retirement. Just a few weeks ago, he told his brother that he only needed to work 56 more hours but planned to stay on until July 1 so he could provide insurance for his granddaughters.
"He worked hard his entire life, but he didn't mind doing it," Bob Bray, his 43-year-old brother, tells Daily RFT.
Pat Bray, however, didn't make it to July.
Last Monday, the Jerseyville, Illinois, resident was killed during a construction accident at the bridge, leaving his family to mourn a man who they say was so dedicated to his family and such a hard worker that he was willing to continue the job -- even after he was free to retire.
After his death, Bob Bray checked his brother's log book and saw that he was already well past the required hours for retirement from the project on the bridge connecting St. Louis and St. Charles counties. (The work is part of a $64 million rehabilitation of the westbound side of the I-70 bridge, which will be closed through late summer.)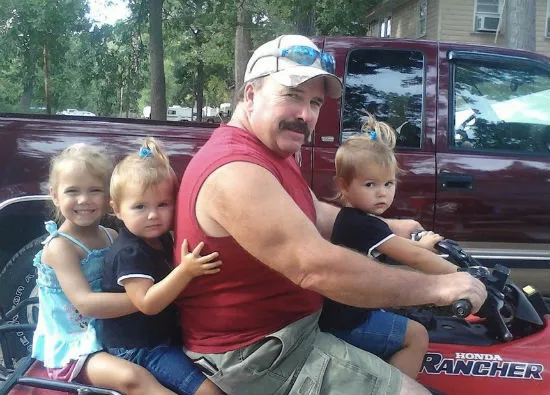 Courtesy of Bray family
Pat Bray and his granddaughters.
"His sense of family and legacy was just his driving force," Joan Bray Buchaniec, Pat's 45-year-old sister, tells Daily RFT. "Pat really understood from a very early age that he had a purpose in life and that he was a caregiver."
She continues, "It was amazing that he was able to do so much. He never...thought his day was complete until he checked on his parents. 'Mom, what do you need me to do? Dad, what do you need?'"
"He was tough as nails," his brother Bob says, adding, "but he had two daughters and three granddaughters. And just seeing him adjust and show his soft side was something special."
The fatal accident is under investigation, and members of his family tell us that they are leaving it up to the relevant authorities to determine if there were any violations. Officials say that Bray died of injuries on a barge after he was struck by a 55-gallon drum during work last Monday morning.
His employer, Walsh Construction Company, did not respond to a request for comment from Daily RFT but said in a statement to the Post-Dispatch that it was "deeply saddened to report that an accident on the Blanchette Bridge Rehab over the Missouri River Project took the life of a valued employee."
For the Bray family, it was an especially difficult Father's Day this past Sunday.
"It's a shock," says Buchaniec, adding that it was a huge help that so many friends and coworkers came out to honor him with positive stories to share with the grieving family. "There were many people who waited and hour and a half to come in and see our family."
Current and former colleagues, she says, told them that "there was a sense of security and calm whenever Pat was their coworker."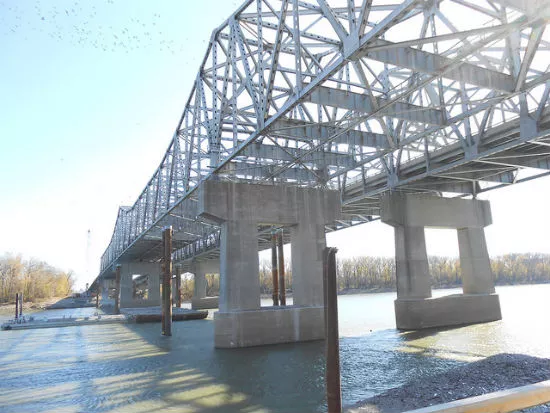 Pat Bray, raised by parents Bob and Joy, was one of eight siblings, including his fraternal twin, Michael. Pat started working as a laborer at age eighteen hammering railroad spikes in Pacific, his family says. He later worked jobs in Colorado and Virginia before returning to Jerseyville.
He eventually joined the Army and was stationed in Fort Riley, Kansas, before spending some time in Germany. He worked in the arms room there and acquired a passion for guns, his family says. After his retirement, he planned to attend school to become a gunsmith.
Mike Bray recalls one story that he says illustrates the kind of twin brother Pat was to him. Mike says that he and a buddy were driving in western Kansas close to the Colorado border when his car broke down late at a night in a very small town.
All photos courtesy of Bray family.
Pat Bray.
"There was only one person I would call back then," says Mike.
He ringed his brother and asked him what to do.
"He stopped what he was doing, put down what he was doing and did whatever he could to help," Mike recalls.
In this case, his brother drove hundreds of miles across the entire state to come rescue him, working late into the night to fix the car -- even as a tornado began to hit in Kansas.
"He was there, because I needed him," says Mike.
In addition to his siblings and parents, Pat Bray leaves behind two daughters, Kayla and Kelli, and three granddaughters.
Continue for an obituary from the family and for more photos.
Here's an obituary from his brother Bob provided to Daily RFT, followed by more family photos.
Our parents, Bob & Joy, raised eight children of which Pat was number four in the birth order (siblings in caps):
KAREN & Dean Davenport
LINDA & Kevin Heitzig
SANDRA (SAM) and Jim Lyles
PATRICK (PAT) JOHN BRAY (fraternal twin)
MICHAEL Bray (fraternal twin)
JOY ANNE (BOO BOO) Bray
JOAN & Shaun Buchaniec
Vicky & BOB Bray

Raised by his loving parents in an Irish Catholic home, "family first" was never talked about or asked for by his parents. Rather it was just a by-product of the loving environment in which he was raised by two great parents. Pat was an athletic kid all throughout his academic years, giving me a great big brother to look up to. He was a "salt of the earth" guy always offering to lend a hand to those in needs. I learned a lot about Pat at last night's visitation. I lost count of the number of people who told me he'd helped them out unexpectedly on project ranging from concrete pads to setting posts to taking up for kids being picked on.

Besides being a rock amongst his brothers and sisters, he was functioning as a father to his three granddaughters. He always set a good example for them by attending church every Sunday, something he's done without exception since his childhood.

His eighth grade year, he began working out and the gym and this became part of his daily routine; something that he continued daily until his last day.

Helped his parents any time they'd let him and will be sorely missed by them.

Most people only pray when they're asking for something but my father prayed to god every morning and every night to thank god for protecting his children.

His timeline: Born March 19, 1962

Attended and graduated from Holy Ghost Catholic school grades 1-8

Played basketball for the Holy Ghost Jays and Khoury League Baseball for Buzz's Body Shop

Wrestled and Played football all four years in high school and was an all-conference nose guard his senior year.

Started his job as a laborer at 18 out of Local 660 hammering railroad spikes in Pacific, MO.

Married his high school sweetheart Becky Young only to have his heart broken a few short years later.

Worked at Loveland Ski Resort and shared an apartment with his brother Mike and sister Boo Boo in Georgetown, CO.

Lived in Virginia where he built bridges.

Moved to Kansas City to attend DeVry. Returned to work as a laborer.

Moved back to Jerseyville and worked out of Local 660. Married and had two beautiful daughters, Kayla & Kelli.

Joined the Army and was stationed at Ft. Riley, KS. Spent some time in Germany. He worked in the arms room and acquired a passion for guns.

Shortly after his time in the Army, Pat took a job at Olin Corp but too many layoffs sent him back into the Laborer's field.

Married Kim Gress, someone he adored, and was adored by, but unfortunately bringing two families together made the marriage impossible.

Had a four year companionship with Angie Bland. The two loved each other.

I last spoke to him about 2 ½ weeks before his death and he told me he needed 56 hours in order to retire. I looked at his log book and he had 112 ½ hours last week alone. He decided to stay on until July 1st in order to provide insurance for his granddaughters whom he lived for.

He had decided that after his retirement, he would become a gunsmith. To prepare for this, he had a lease on an apartment in Lawrenceville, IL where he planned to stay while he attended school to become a gunsmith.
Send feedback and tips to the author. Follow Sam Levin on Twitter at @SamTLevin.