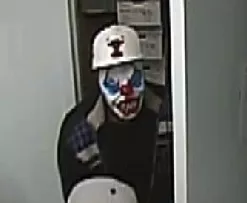 County police
Robber in clown mask caught on camera.
St. Louis county police are looking for two suspects who allegedly stole around 30 smartphones from a T-Mobile store on Friday after forcing a clerk to open the supply closet. One man had his shirt pulled over his face, police say.
And the other was wearing a frightening clown mask. More photo evidence below.
The robbery happened at the store on 7029 South Lindbergh Boulevard in Mehlville.
Police say that the two men fled the scene with the stolen merchandise in a dark-colored SUV, possibly a Lexus or Mazda.
First, cops say, they tied up the female clerk.
Here's the county police department's description of the two suspects:
The first suspect is a black male, approximately 5'7" to 5'9" with a thin build, wearing a flat billed black and gray hat, an oversized white t-shirt, baggy dark colored jeans and black tennis shoes. Victim recalled seeing an afro protruding out from underneath the hat.



The second suspect is a black male at least 6' tall, with a medium build, wearing a white Chicago Bulls hat, black jacket with purple and gray on the front, dark colored jeans and white tennis shoes. Victim recalled this male was wearing an "evil clown" mask that covered all of his face and approximately half of the back of his head.
Cops are asking anyone with information to call crimestoppers at 866-371-TIPS or the St. Louis County Police Department at 314-889-2341.
Here are the other surveillance photos that the department released: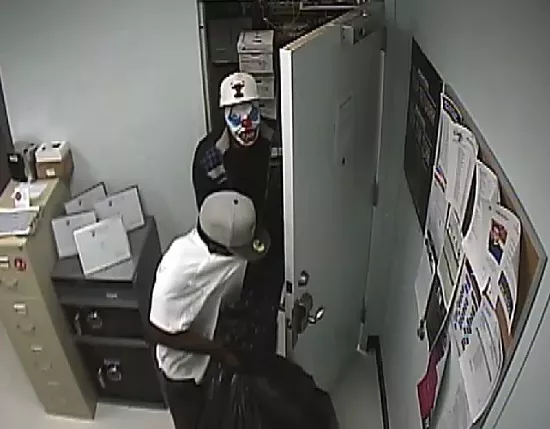 Send feedback and tips to the author. Follow Sam Levin on Twitter at @SamTLevin.