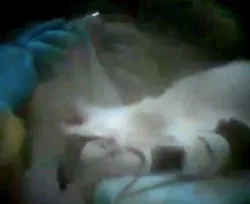 via PETA
Inside Wash. U.'s PALS course earlier this year.
Last month, Daily RFT broke the news that Washington University and St. Louis Children's Hospital were discontinuing their controversial practice of using live cats in a joint pediatric advanced life support (PALS) course. Animal-rights activists locally and nationally celebrated the news -- after years of intensifying protests arguing that the use of anesthetized cats is cruel and unnecessary.
There's only one problem: It turns out Wash. U. and Children's Hospital are still using cats in the exact same way -- just in a different training.
"It's disappointing, and frankly, it's not surprising, because they have for the duration of the campaign abused their authority by misleading the public," Justin Goodman, director of laboratory investigations with People for the Ethical Treatment of Animals, tells Daily RFT.
- Washington University: PETA Goes Undercover to Expose the "Cat Lab" (VIDEO) - Bob Barker Writes to Washington University: I'll Pay You to Stop Abusing Cats - Wash. U. Stops Using Live Cats in Training Class After Years of PETA Protests
The news of the continued use of cats comes today in a letter to the editor in the Post-Dispatch.
As some quick background: Last month, we received a tip that Wash. U. officials had told students in the PALS course -- which teaches participants about pediatric intubation -- that they would no longer be using live cats. Only mannequins.
We asked officials at both institutions about this, and a spokeswoman with Children's Hospital confirmed to us that, yes, the PALS course no longer includes live-animal training. She told us it was a "permanent change to the course." Neither Wash. U. or Children's Hospital responded at the time to Daily RFT's requests for interview or further details on this change.
Wash. U.'s "undercover video."
So, we wrote a story announcing that the practice of using cats in this course was over, and PETA and local animal-rights advocates in response praised the decision and celebrated its victory.
Today, however, weeks after that news broke, Wash. U. and Children's Hospital officials have penned a letter to the editor to the P-D with a pretty newsworthy announcement titled "Medical school's decision to stop using animals does not extend to all training."
The letter defends the practice, saying, "We believe our training serves the best interests of sick infants, who benefit from experienced physicians." It doesn't give much detail on where cats will still be used, but says their comments may have been misinterpreted to mean that the decision to stop using live cats extended beyond the PALS course.
"This is a lie by omission," says Goodman, referring to the hospital's statements to Daily RFT last month. "They mislead you to think they were ending the 'cat lab'.... They are just calling it something else. It's the exact same training for some of the same people at the same facility."
Photo by Leah Greenbaum for RFT
Protest at Wash. U. last year.
This means that PETA -- and local advocacy group Alliance for Medical Progress -- will relaunch its campaign and intensify their pressure on Wash. U. to actually end the practice altogether.
"The campaign is going to continue, and it's going to escalate until the university aligns its program with what others do and spares these cats," Goodman says.
All along, the argument of PETA -- who made a splash with an undercover video in April inside the class and with public support from The Price Is Right's Bob Barker -- is that it's not only cruel to intubate live cats, it's also an unnecessary and uncommon practice. In this specific PALS course, PETA says, Wash. U. was the only institution in the country still using cats.
And in pediatric residencies -- which is where the practice will continue here -- more than 98 percent in the United States do not use live animals, Goodman notes. PETA says that experts, including the American Heart Association, do not endorse this practice.
F. Sessions Cole, director of the division of newborn medicine at Wash. U. and chief medical officer at Children's Hospital, tells Daily RFT that the practice of using cats is incredibly valuable and very safe for the animals involved.
"Mannequins are certainly an important part of the training...but there is a part of the procedure that involves being able to see the back of the throat and being able to insert the tube that is, in our experience, best taught with a living model," says Cole who co-signed the P-D letter.
Continue for our interview with Dr. F. Sessions Cole.
Using cats "will accelerate their ability to perform the procedure and confidence in performing the procedure is very important, not only for the trainee, but also for the babies whom the trainee will encounter," says Cole.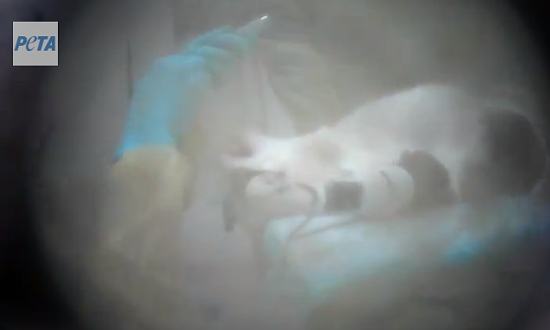 He continues, "Cats provide a very effective model for training."
He explains that intubation of babies is a procedure in which doctors put a soft, plastic tube into the airway of a baby; it's used when an infant needs help breathing. It's an important procedure, he says, and the training with cats is helpful for students.
"Right now, we are using the best way -- mannequins and cats -- that we know," he says.
In response to animal-rights activists who argue that a very large majority of institutions nationally don't use cats, he says, "Our experience suggests that cats are an important part of our training program, and that's constantly being reevaluated and updated. Right now, that's our opinion.... As with any kind of educational or academic program, there is always going to be some diversity in whether one part of the program is better or not."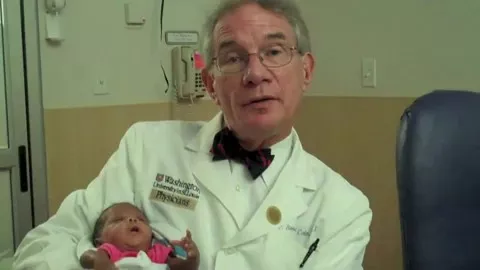 Some may choose not to use cats for financial reasons, he adds. "Part of it may be the cost and resources required to provide experience with cats."
He notes that Wash. U. has always passed necessary regulatory inspections. "The animals are treated in the most humane and most respectful way possible. That's not possible at many other institutions."
And it's safe for the animals, he says.
"It's not a cruel experience," he says. "I clearly have a different point of view than the PETA folks have."
Cole adds, "The cats have veterinarians that are with them all the time...and they are adopted out after they have been with us for a few years. We do everything we can to respect the animals."
Send feedback and tips to the author. Follow Sam Levin on Twitter at @SamTLevin.