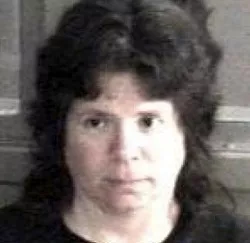 Today, in the you-can't-make-this-stuff up category, we have for you the story of Lynn Marie Herzog, a 50-year-old Lincoln County woman who reportedly thought it would be fun to scare kids in her neighborhood.
With a ski mask on. And a chainsaw in hand.
That's right, folks! Cops say that Herzog cursed at children -- and threatened them with a chainsaw. And that's not all. Apparently she had several different methods of bullying children.
And some of the woman's bizarre screams were caught on a cell phone.
Whether it was some kind of twisted joke or not, Herzog is probably not laughing now.
The woman was arrested and charged over the weekend with "felony harassment" with bail set at $10,000, the Post-Dispatch reports. She could face up to four years in prison if convicted.
The paper says she not only threatened neighborhood children with a chainsaw, she also cursed at them and videotaped and photographed them in an apparent effort to scare them.
The trick seems to have worked.
KTVI (Channel 2) has some comments from some distressed neighbors who're not pleased that this woman was running around screaming and yelling and threatening kids with a chainsaw. The station also has some very blurry cell-phone video of the woman using the chainsaw on a tree...and screaming for no apparent reason during the process. Check out that video here.
Send feedback and tips to the author. Follow Sam Levin on Twitter at @SamTLevin.