James Little, murder suspect.
In the city of St. Louis, there have been a total of 38 murders reported this year so far and the month of May ended with an especially tragic and random slaying.
In addition to some of these cases of horrific crime, in the St. Louis metro area there were also a handful of truly bizarre criminal acts -- including a nude, drunken break-in, the comically clumsy police chase and more.
Check out our summaries below of the most violent -- and the most strange -- local crime stories of the last 30 days.
12. The Poorly Planned AK-47 Pizza Robbery Plot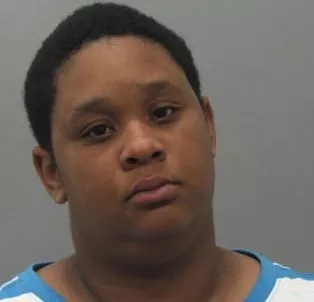 Police didn't have too hard a time tracking down the suspects who plotted to rob a Domino's deliveryman with an AK-47 assault rifle.
In part, that's because Ava Jackson, twenty, apparently ordered the pizza with her phone -- to the block where she lives.
Hope that pizza tasted good!
Full story: Domino's Deliveryman Robbery: St. Louis Police Arrest Joey Hale In AK-47 Pizza Theft Case
10. Naked, Drunk Stranger At Your Bedroom Door
A St. Charles county resident was likely quite perplexed when he woke up to the sound of banging on his bedroom door in the middle of the night.
When he opened the door -- armed -- he saw a naked, very drunk man on the other side. Police say the suspect was a total stranger who the homeowner then held at gunpoint until cops arrived.
Full story: Cops: St. Charles Man Confronts Naked, Drunk Intruder In His Home, Holds Him At Gunpoint
See also: - Photos: Top Ten Worst Crimes in St. Louis, February 2013 - Photos: Top Twelve Worst Crimes in St. Louis, March 2013 - Photos: Top Ten Worst Crimes in St. Louis, April 2013
Continue for more of the worst crimes in May.
10. Boy, 5, Wandering Schnucks Alone At Night
Schnucks made crime headlines in May for more than just its massive credit card security breach. On a Friday night in the first week of the month, employees at the Loughborough Avenue Schnucks were quite alarmed to find a five-year-old boy wandering alone with a dog.
It was even more alarming when he told the employees that he didn't know his own last name. And he was, apparently, hungry for food.
Full story: St. Louis Cops: Boy, 5, Wandering Schnucks Alone at Night, Doesn't Know His Last Name
9. The Absurd End To A Police Chase
A police chase ended badly for a male suspect last month when he somehow managed to run into the St. Louis county police headquarters -- and inadvertently headed straight toward the chief's office.
And if that's not bizarre enough, Randy Vaughn, the county's media relations officer and spokesman, was actually inside the office while this happened and had to chase after him and help apprehend him. The man, it seems, tried to escape into the building not realizing it was, well, filled with cops.
Full story: Suspect Fleeing Cops Runs Into County Police Headquarters, Heads Straight To Chief's Office
Continue for more of the worst crimes in May.
8. Home-School Teacher's Assault
Joseph Maddock, a 33-year-old teacher in Lake St. Louis, allegedly put his hand down his ten-year-old student's pants and touched him inappropriately -- inside the student's home.
Maddock had met the student a year ago while teaching third grade at Andrews Academy in Lake St. Louis and the teacher convinced the boy's parents to have him home-school the student full-time the following academic year, police say.
Full story: Teacher Joseph Maddock Accused of Putting Hand Down 10-Year-Old Student's Pants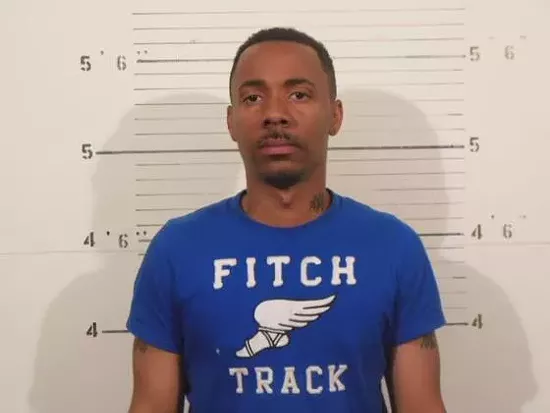 In yet another case of sexual misconduct in a school, Cahokia High School assistant teacher and coach Mario Hunt allegedly had sexual contact with a minor -- knowing he was HIV positive.
Once he was caught, the fact that he may have exposed the youth to HIV made the charges all the more serious.
Full story: Cahokia High Coach Mario Hunt Charged With Sexual Abuse of Teen, Transmitting HIV
Continue for more of the worst crimes in May.
Last month, police identified the man who pretended to be a UPS driver, forced his way into an Ellisville home and assaulted an elderly woman inside.
Part of his violent crime reportedly involved taping her to her stove.
In May, St. Louis county prosecutors issued warrants -- but said they did not know where the suspect was.
Full story: Police: Fake UPS Driver Who Robbed Woman, Taped Her to Stove Is ID'd But On The Loose
5. The Illinois Courts Drug Scandal
The drug scandal plaguing the St. Clair County court system will likely be one of the biggest crime stories locally for months to come and is so unbelievable that we couldn't exclude it from our monthly metro crime roundup. One judge is accused of heroin charges and illegal firearm charges -- and was forced to resign and check himself into rehab.
Another reportedly overdosed on cocaine.
And officials believe many more prominent figures may be implicated.
Full story: Illinois Judge Michael Cook Faces Heroin, Gun Charges, Wears "Bad Is My Middle Name" Shirt
Continue for more of the worst crimes in May.
Stacy Davis allegedly watched a woman nearly die from an overdose caused by the drugs he gave her. A few hours later, though, he gave her more of the same, police say.
Soon after she was found dead in a trash heap, hidden under a discarded television.
Full story: Stacy Davis Charged with Murder; Woman Overdosed, Found in Alley, Buried Under TV
3. The Youngest Homicide Victim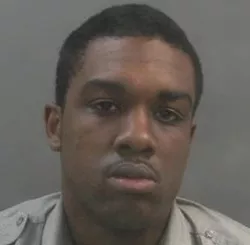 The 33rd homicide victim in 2013 is by far the youngest.
Two-year-old Isiah Barber died after his father, Zachary Barber, allegedly struck him in the chest.
The father reportedly admitted to police that he had hit his child -- with a strike that ended up being fatal.
Full story: Zachary Barber Charged In Death of Son Isiah, Age 2; Allegedly Admits Striking Him In Chest
Continue for more of the worst crimes in May.
2. Off-Duty Cop's Act Of Violence
James Little, an off-duty Pagedale cop, allegedly lost his temper when he confronted his ex-girlfriend, the mother of his two children, who was with her fiance.
The argument got so bad that Little reportedly pulled out a gun and shot the man to death -- in front of his own kids and their mother.
Full story: Police: James Little, Off-Duty Pagedale Officer, Kills Ex's Fiancé In Front Of His Two Young Kids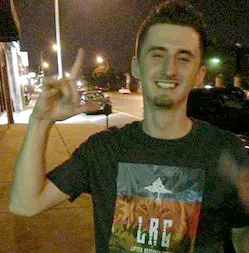 The last homicide of the month was especially tragic, in part because of the backstory of the victims -- and the totally random nature of the crime.
Two brothers from Bosnia who came to St. Louis a decade ago with their family opened a convenience store in the front of their home. On May 31, an armed robbery assaulted them in the store -- shot the older one in the arm, and the younger one, age nineteen, in the head.
Then he fled -- with roughly $30 in cash.
Full story: Joseph Fox Charged In Robbery, Murder of Haris Gogic, 19, Convenience Store Owner
Send feedback and tips to the author. Follow Sam Levin on Twitter at @SamTLevin.