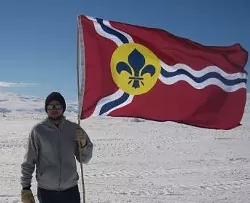 Courtesy of Richard Bose.
St. Louis flag...in Antarctica.
St. Louis pride apparently extends as far as Antarctica.
Today, Richard Bose, an electrical engineer at Washington University's physics department, is presenting Mayor Francis Slay with a St. Louis flag that has been to Antarctica and back.
Bose is part of a high-energy astrophysics team at Wash. U. that built a cosmic ray detector called Super-TIGER and went to Antarctica this past winter. His team broke the official NASA record for the "longest heavy-lift balloon flight."
They also made a point to rep St. Louis on their trip.
Here's some video proof of Bose planting the 3' x 5' St. Louis flag in Antarctica in front of Mt. Erebus, a volcano on Ross Island.
"I thought I would just take it down there," Bose tells Daily RFT. "The classic explorer deal is you place your flag somewhere. It wasn't quite the moon."
But it was Antarctica!
As we reported back in January, over the last four years, Wash. U. has collaborated with NASA to build a two-ton balloon-borne cosmic ray detector called Super-TIGER (Trans-Iron Galactic Element Recorder).
Bose, who grew up in Springfield, Illinois, and also went to Wash. U. as an undergraduate, was on his first trip to Antarctica -- and stayed there for 52 days.
Courtesy of Richard Bose
Richard Bose.
"Civic pride was definitely a part of the impetus to take the flag there," he says, adding, "It's definitely a cool background."
The goal of the mission to Antarctica, Bose explains in a letter he is delivering to the mayor today, was to learn more about the origin and history of cosmic rays, which are atomic nuclei that travel through space at nearly the speed of light. Super-TIGER was designed to detect the very rare heavy elements.
Part of the Wash. U. team in Antarctica.
Super-TIGER, he says, culminates a century of research, with major contributions from Wash. U. physicists over the last 70 years.
The flight launched on December 9 and ended on February 2.
Here's video of the balloon's launch, followed by some more photos and the official letter to Mayor Slay.
Continue for more photos.
Update, 11:55 p.m.: with photos from the mayor's office: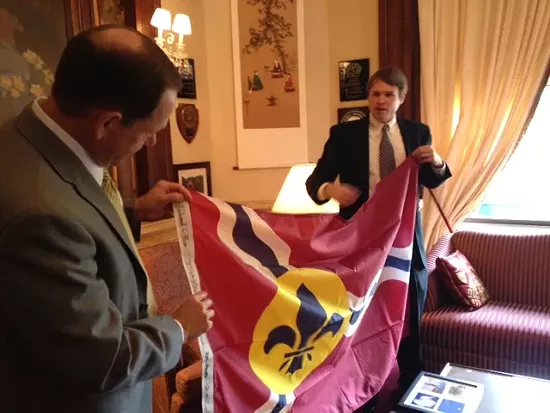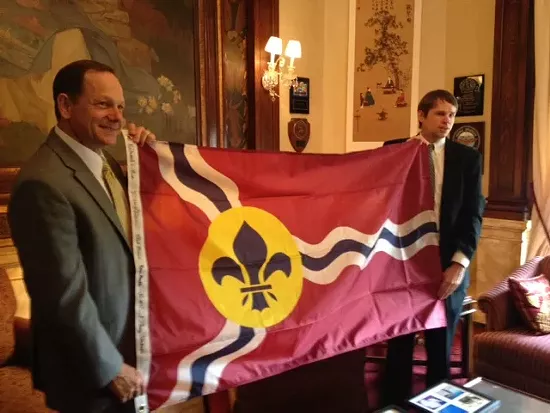 Here's Bose's letter.
Send feedback and tips to the author. Follow Sam Levin on Twitter at @SamTLevin.