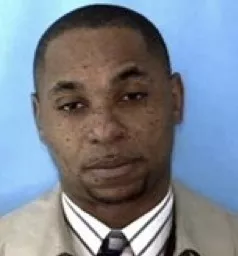 FBI
Morris Davis.
The Federal Bureau of Investigation is looking for two St. Louis fugitives that were allegedly part of a massive auto theft ring that involved 21 men and women, more than a hundred luxury cars -- and spanned across Missouri, Illinois, Iowa and Indiana for five years.
Reginald Dante McNeary, a.k.a. "Reggie," and Morris Allen Davis, a.k.a. "Mo," are the two remaining defendants on the loose involved in the auto theft scheme that the U.S. Attorney's Office brought to light in April with a federal indictment that initially led to the arrest of sixteen individuals.
McNeary lives in the St. Louis metro area and is known to drive high-end cars, such as a Mercedes Benz, Jaguars, Cadiallac Escalades and BMWs, the FBI says. He frequents local health clubs, has associates in Missouri and Illinois -- and is armed and dangerous, the bureau says.
Davis also lives in the city or the county, officials say, and recently owned and operated a tow business in the city. He is frequently in north St. Louis county, the FBI says.
The 21 men and women indicted -- mostly from St. Louis city -- face charges that include conspiracy, bank fraud, mail fraud and receipt of a stolen motor vehicle. At this point, nineteen have been arrested. When authorities first announced the indictment on April 23, only sixteen had been located and arrested.
FBI
Reginald McNeary.
The allegations against the group paint a picture of a complex and large conspiracy. These individuals reportedly committed bank fraud in order to obtain the vehicles -- and obtained insurance proceeds by staging accidents and filing false theft reports. The original announcement of the charges explains:
The indictment alleges that the defendants stole luxury automobiles, sports utility vehicles, and pickup trucks from individuals and automobile dealerships, in the Eastern District of Missouri, Iowa, Illinois, and Indiana, which they transported to the Eastern District of Missouri. They disabled any tracking systems, like Onstar on the stolen vehicles so that they couldn't be traced by law enforcement.
The defendants used or sometimes disposed of their vehicles while the loan defaulted, authorities say.
"On many occasions, the defendants falsely claimed to have done repair work which wasn't actually performed on vehicles submitted to their businesses, inducing lien holders to pay the defendants money to avoid the issuance of a mechanics lien," the indictment announcement says.
While investigators have identified more than one hundred vehicles in these scheme, officials say there may be "many more" that were involved.
Those with tips about the remaining two fugitives can call the FBI at 314-589-2500 or CrimeStoppers at 866-371-TIPS.
Here's the full FBI announcement from yesterday:
And the original announcement of the indictment, which includes a list of those charged:
Send feedback and tips to the author. Follow Sam Levin on Twitter at @SamTLevin.