Could Cupples 7 be saved after all?
Yesterday, we reported that St. Louis city officials will move forward with the demolition of the historic downtown building next week -- unless a developer comes along with a plan to immediately purchase and stabilize the property.
Representatives of Vertical Realty Advisors, a St. Louis company, now tell Daily RFT that they do have a plan and the financial backing to save and restore the building for a major commercial rehab. And the firm has brought its proposal directly to the city.
But in the final countdown before the start of demolition, it seems these developers may never get the opportunity.
See also: - Pevely Dairy: After Long Fight, Why Doesn't Saint Louis University Have a Plan? - City Says Historic Cupples 7 Will Be Demolished Unless a Developer Steps Up - Demolition To Begin Next Week On Cupples 7, Advocates Push For Rehab
Cupples 7 is a seven-story brick building on 11th and Spruce streets that was constructed in the early 20th century by Eames and Young as part of the Cupples Station complex. It is currently in very poor condition and was condemned in 2008. In addition to preserving its historic value, advocates that oppose demolition say they want to see the site transformed into a positive force for economic development and revitalization downtown -- and not left vacant.
A major problem, according to city officials, is that the physical property is in dire need of prompt stabilization and poses a major public safety risk. (Developer Kevin McGowan of Ballpark Lofts III LLC technically owns the property and Montgomery Bank is the lender on a development project that didn't succeed).
If the demolition goes forward, the city will purchase the site as outlined in an agreement with the former treasurer of St. Louis, officials say. Current city treasurer Tishaura Jones tells us that the city, however, wouldn't purchase the property and take on that financial liability if it's not being demolished.
She told us earlier this week, "We understand the historical significance of Cupples and do not take this decision lightly."
But Curt Schroeder, a managing partner for Vertical Realty Advisors, says that he and his business partners have a plan -- and the necessary financial commitment from their capital source -- to save the building from destruction and are trying hard to persuade the city to work with them.
"If it's 50 million, we have 50 million," Schroeder tells Daily RFT. "We have...the money to do the deal."
Hasan Adelani, a senior associate with the company, adds, "We can immediately stabilize the building."
If the treasurer's office moves forward with its purchase, Vertical Realty would be able to soon after work out a purchase agreement with the city and take responsibility, they say.
The company -- which is also working on the vacant municipal courts building downtown -- has submitted what's called a "term sheet" to the city outlining its proposal for Cupples 7.
"We're trying to revitalize," Schroeder says. "It's dark over there. There's no lighting. There's no vibrancy.... We want to bring some jobs and energy to the place to light it up and make that a destination place for St. Louisans and others.... St. Louis could be a destination city. It could be more attractive."
The plan would be to immediately make all the necessary structural changes and then eventually build a project that would have commercial office spaces on the second through seventh floors and retail or restaurant usage on the ground level, they explain. They expect that new media, tech, design, architecture and other similar companies would be interested in office space in a rehabbed Cupples 7 building.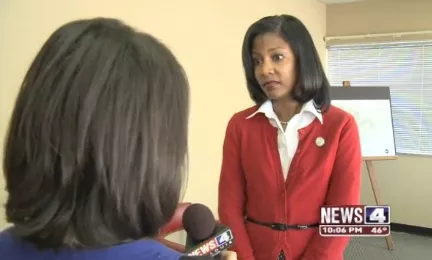 via kmov.com
St. Louis Treasurer Tishaura Jones.
Speaking of city officials' recent comments, Schroeder says, "I don't want the message to go out there that somebody...is not trying, because we are.... We've offered to purchase the property from the treasurer's office."
The problem, according to the treasurer's office, is that the city won't purchase the site if it's not being demolished; Jones says it's not fiscally responsible.
If developers wanted to go to the bank and purchase Cupples 7 immediately and had the money to fix it up now, she says the city would not stand in their way. (Some argue that the money that will go toward the demolition option should be used as an incentive for development).
Jones characterizes Vertical Realty's proposal as a "master lease agreement," in which the city, by purchasing Cupples 7 now, does assume responsibility.
"It's still a solution...that has us paying at the end," she says. "It's...not somebody coming in and purchasing the property outright and developing it.... What we would prefer, myself and the city, is for someone to come in and buy the building and develop it themselves and do whatever they want with it."
Continue for more of Tishaura Jones' commentary on Cupples 7.
Jones says, "We are not comfortable...assuming a portion of the risk."
Here's one Tweet from her yesterday that sums up her stance:
Jones tells us, "We want people with an immediate plan and immediate money to start tomorrow." (The mayor's office this week made these same points to us saying that the city welcomes a developer that has the necessary funding now).
In response to these comments, Adelani explains to us that his company could make a commitment to buy the property from the treasurer's office and do the rehab in the next few months with a plan for a full development project after that. Vertical Realty cannot, however, buy Cupples 7 straight from the bank this very week, he says.
Still, he argues, "The city would not be on the hook."
via stlouis-mo.gov
Site map from city's request for proposals.
He says he is confident that his company could finance the preservation and development of Cupples 7 with the help of historic tax credits.
"We are not trying to be the hero here," Schroeder adds. "But we want to see it get done. Once Cupples 7 is gone, it's gone forever and it's not going to be rebuilt."
Here's a copy of the city's formal request for proposals for Cupples 7.
Cupples 7 Request for Proposal
Send feedback and tips to the author. Follow Sam Levin on Twitter at @SamTLevin.