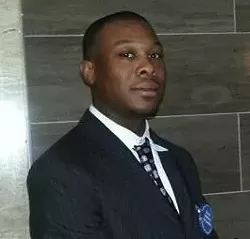 Courtesy of Sara Weichold
Cary Ball.
At the end of a nighttime police chase in April, Cary Ball Jr., 25, eventually surrendered to cops in the Columbus Square neighborhood in St. Louis. But the two officers subsequently fired shots at the man -- and killed him with 25 bullets.
This is the story according to Ball's grieving family members, who say that the officers in question need to be investigated, removed and charged. The initial police report, however, offers a different account of what happened the evening of April 24 and says that the cops were defending themselves.
"We want an independent investigation and we want justice," Toni Taylor, Ball's 43-year-old mother, tells Daily RFT. "We would really like to see those police officers on trial.... They murdered him."
See also: - Jaleel Jackson: Mom Revisits Death of Her Son as Shooter Faces Murder Charges - Mother Wants Justice for Matthew Pellegrini After Killer Says He "Asked to Be Shot" - O'Fallon Mom Speaks of Daughter's Overdose, Rallies Against "The Silent Killer"
In recent weeks, Ball's family and friends have staged protests criticizing the St. Louis Metropolitan Police Department and urging St. Louis Circuit Attorney Jennifer Joyce to take action against the two cops who fired the fatal bullets.
As we covered in our original report on the officer-involved shooting incident, police say that Ball had been driving erratically and then attempted to flee from cops. The two officers on patrol at the time -- a 32-year-old male with seven years on the force and a 29-year-old male with five years -- engaged in a full-on chase after Ball allegedly fled.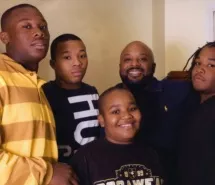 Courtesy of his family
Cary Ball, left, with his father and siblings.
Ball was armed, officers say, with a "loaded .40 caliber semi automatic gun with an extended magazine" that had been reported stolen.
They attempted to stop the parked vehicle on the 1000 block of 9th Street, but Ball exited on foot, prompting the cops to chase him, according to an incident report. When they reached the 700 block of Carr Street, they ordered him to drop his weapon at which point -- police say -- Ball refused.
"Fearing for their immediate safety," the report says, they discharged shots and hit Ball in the torso and arms. He was later pronounced dead at a hospital.
Ball's family, however, says that, based on witness accounts, he had clearly surrendered at that point in the chase and that police needlessly fired shots at him -- 25 times.
"They are covering it up," says Taylor, who says she has reached out to the police department for more information but hasn't gotten anywhere. "It's very frustrating. I just want some type of answer."
via Google Maps
Carr Street where the shooting took place.
She continues, "We're not saying that Cary had no fault. We understand it was a car chase.... But he should've had a chance to go to court."
"He surrendered," she says. "And 25 shots is not a warning."
Ball, his family says, was released from prison on May 1, 2012 after about six years on and off behind bars, and was successfully turning his life around.
He was an honors student with a 3.86 GPA at Forest Park Community College, majoring in human services, his cousin Sara Weichold, 33, tells Daily RFT.
"Ever since Cary came home, he had changed his life completely. He immediately enrolled at Forest Park," she says. "We are not denying that he had a past. But the past is the past."
She says that Ball was even supposed to be recognized at a scholars event on May 1, but instead his family was burying him that day.
What happened that night, Weichold says, was "police brutality and excessive force.... It was inhumane."
She adds, "We don't want this to happen to somebody else's child."
"We know there are good police officers out there," she continues, "but we need to get the ones who are not off the street so this doesn't happen to anyone else."
Continue for more from Ball's family and response from the metro police department and the circuit attorney's office.
Weichold and Taylor say that Ball suffered so many shots, he couldn't even be an organ donor as he had wanted.
Taylor says that Ball was the oldest of four, leaving behind two brothers, a sister -- and a four-year-old daughter that he was recently reconnecting with.
Cary Ball, at a recent student advocacy event in Jefferson City.
"My son was doing a wonderful job changing his life around," she says.
"She's asking where he's gone," Taylor says of Ball's daughter. "All we can say is that he's gone to rest in heaven."
Asked for comment yesterday about the family's accusations that Ball was wrongfully killed, a metro police spokeswoman tells Daily RFT in an email that "this is an ongoing investigation, and as a matter of Department policy, we do not comment on ongoing investigations."
Regarding the status of the cops involved, the statement says:
As a matter of Department policy, when an officer(s) is involved in a shooting incident, the officer(s) is placed on 3-day administrative leave at which time a Department psychologist will evaluate the officer(s) and make a determination as to the officer(s) duty status.

The two officers involved in this incident have returned to full duty.
Meanwhile, Circuit Attorney Jennifer Joyce has issued a formal statement in response to the family's protests, calling the shooting a "tragedy" and saying she respects the family's First Amendment rights.
via Facebook
Circuit Attorney Jennifer Joyce.
"The death of Cary Ball Jr. is a tragedy and I am sorry for the loss his family has experienced," she says. "We recently met with Mr. Ball's family to share the process by which our office reviews matters like these."
Her office says it will "objectively and thoroughly review the facts" surrounding his death once the investigation is complete, which could take "several more weeks."
Here's Joyce's full statement.
And here's the original "incident report" that police sent out after the shooting.
Incident: Officer Involved Shooting
Location: 700 block of Carr
Date/Time: 4/24/13 @ 21:37
Victim #1: 32-year old male, 7 ½ years on police force - St. Louis Police Officer
Victim #2: 29-year old male - nearly 5 years on police force -St. Louis Police Officer
Suspect: Cary Ball, 25-year old black male of the 3800 block of Blaine
Officers were patrolling the area in and around Cole Street and 9th Street when they observed a gray vehicle, which had previously fled from other officers, travelling at a high rate of speed and being operated in an erratic manner. The officers attempted to stop the vehicle when it struck a parked vehicle in the 1000 block of 9th Street. The suspect, who was the driver, exited the vehicle and fled the scene on foot. The passenger remained in the vehicle. Officers initiated a foot pursuit of the suspect which proceeded towards the 700 block of Carr. The suspect produced a gun and pointed the weapon at the officers. Officers drew their department issued weapons and verbally ordered the suspect to drop his weapon. The suspect refused and the officers, fearing for their immediate safety, discharged shots, striking the suspect in the torso and arms. The suspect was conveyed to a local hospital where he was later pronounced deceased. Officers recovered the suspect's weapon, a loaded .40 caliber semi automatic gun with an extended magazine. Investigation revealed that the gun had been reported stolen. As is department policy, the two officers have been placed on administrative leave. The investigation is ongoing.
Send feedback and tips to the author. Follow Sam Levin on Twitter at @SamTLevin.