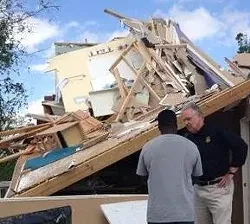 via Twitter
Storm damage in St. Charles.
A destructive storm hit parts of St. Charles and St. Louis counties over the weekend prompting Governor Jay Nixon to declare a state of emergency in Missouri late Friday night. The severe weather followed several days of heavy rain throughout the state and damaged many homes in the metro area. The weekend storm brought three tornadoes to the region, left about a hundred homes uninhabitable and a hundred more with low or moderate damage in St. Charles county.
The Creve Couer Airport posted some pretty incredible videos of one of the tornadoes passing by apparently on its way to Earth City.
Check out the footage and more photos and videos of the damage below.
Here's a sped-up version of the tornado hitting near the Creve Coeur Airport in Maryland Heights, posted on the airport's official YouTube page on Saturday.
And here's a real-time version of the same footage.
Here's a shot of Nixon visiting St. Charles county over the weekend.
And a a tweet from the governor's office showing rising waters in Meramec State Park.
Lambert-St. Louis International Airport officials announced late yesterday that the airport suffered "extensive damage" in the Friday storm. Several airport support buildings and hangars were badly hit, according to a news release. Portions of one hangar roof were torn off a building at the airport.
Here's KMOV-TV (Channel 4)'s report on the damage followed by more footage from news outlets on the scene and Missouri residents affected by the storms and tornadoes.
Continue for more tornado photos and videos from the weekend.
Here's some footage from the Post-Dispatch.
And from KSDK (Channel 5):
And here are some tweets from reporters and Missouri residents who caught the storm in action.
Continue for more photos and videos of the storm damage.
Send feedback and tips to the author. Follow Sam Levin on Twitter at @SamTLevin.