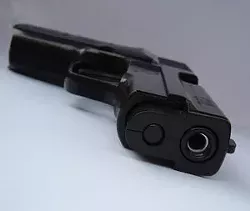 A sixteen-year-old boy was shot and killed in north St. Louis county over the weekend in a drive-by shooting that left two others injured, cops say.
The police department's north-county precinct responded to a shooting at the 9700 block of Ventura Drive at around 2:15 p.m. in the afternoon on Saturday. When they arrived, they found Ryan Thurman, sixteen, dead, and two others -- ages fifteen and sixteen -- suffering from gunshot wounds.
As of this writing, police have very few details to offer about a possible suspect, though it appears it may have been a drive-by shooting.
When police arrived they searched the area on foot for possible suspects. Witnesses also reported a dark blue Impala leaving the scene of the incident.
The two other males who were hit were transported to a hospital.
via Google Maps
Ventura Drive where the shooting victims were found.
Thurman lived on the 4100 block of Enright Avenue in the Vandeventer neighborhood in the city.
Anyone with information can call CrimeStoppers at 866-371-8477.
Here's the full alert from county police sent out on Saturday.
Officers from the St. Louis County Police Department North County Precinct responded for a shooting to the 9700 block of Ventura at approximately 2:15 PM on June 1, 2013. Officers found at the scene one male subject deceased, unknown age at this time, and two other subjects, 15 and 16 years of age wounded from gunshot wounds. The second subject was transported by EMS to a nearby hospital. Officers, including St. Louis Police Department Canine Units, continue to search the area for possible subject(s) on foot. Witnesses also reported a dark blue impala leaving the scene of the incident.
Police identified the slain victim on Sunday:
Ryan J. Thurman
16 years of age
b/m 11/05/1996
4100 block of Enright
St. Louis, MO. 63108
Send feedback and tips to the author. Follow Sam Levin on Twitter at @SamTLevin.