A Java macaque monkey like this one allegedly bit a boy yesterday.
A six-year-old boy's experience at the Godfrey, Illinois, Bark in the Park dog festival yesterday took a scary turn when a woman's pet monkey bit him on the arm -- forcing his family to call 911 and rush him to the hospital, officials say.
"He was petting a dog that was on a leash. The lady that owned the dog also had a monkey on a leash," Rick French, head of animal control for the city of Godfrey, tells Daily RFT. "And evidently, the monkey bit the boy on the left forearm."
An Alton, Illinois, woman owns the black-and-white female Java macaque monkey, named Nina, French says. The young Godfrey boy is recovering, and the monkey may have to be quarantined at home and evaluated by a licensed veterinarian.
See also: - Phineas the Dog: Family Fights To Save Pet That Bit Young Girl - Missouri Ferret Attack Not Isolated Incident; Animals Known to Bite Babies - Missouri Humane Society Not Liable for Dog Bite, Court Finds
French says the bite incident took place yesterday afternoon around 3:30 p.m. in Godfrey's Robert E. Glazebrook Community Park.
"The boy was taken to the ER, and he was released," says French.
Based on early accounts he has heard, the boy suffered "two small puncture wounds," he says.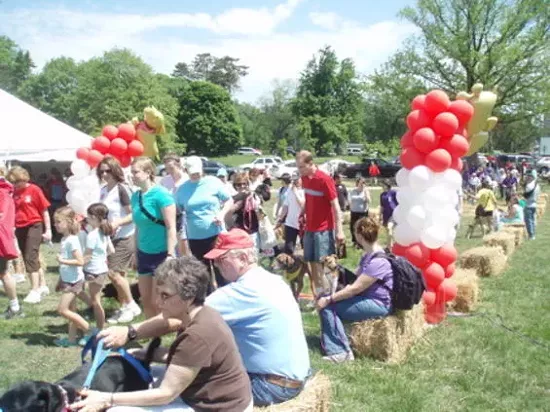 File photo of Bark in the Park event in St. Louis.
The child is going to the doctor today for a follow-up appointment.
Madison County Rabies Control is now handling the case, French says. Daily RFT left a message with that agency and will update if we hear back.
French says there are no ordinances related to pet monkeys in Godfrey, and he is not aware of any relevant state laws either.
Is this sort of biting incident common?
"I've done this for twentysomething years, and I've never had a case of a monkey before," he says.
Send feedback and tips to the author. Follow Sam Levin on Twitter at @SamTLevin.