via Twitter
Jamie Allman.
Updates below: This month, KTRS (550 AM) morning-radio host McGraw Milhaven announced that he is teaming up with the Post-Dispatch to stream his program at stltoday.com. And last week, he asked his followers on Twitter for some feedback on the new partnership.
The response he got was probably not exactly the kind of constructive criticism he was looking for.
St. Louis radio host Jamie Allman of conservative talk station 97.1 FM replied with a sarcastic insult to Milhaven and the P-D, prompting Milhaven to fire back with a question today: Don't you work for the P-D?
Classic media Twitter fight, y'all.
See also: - KSDK's New "I'm Just Sayin" Already Has Some Saying Shut Up! - KTRS's McGraw Milhaven Accuses KMOX's Brennan Of Sabotaging His Show - JC Corcoran: St. Louis Shock Jock Suffers Wicked Case of Twitterhea
Here's the exchange:
Prompting this Milhaven tweet this morning:
Bam!
That bio says that Allman is an "op-ed columnist for the St. Louis Post-Dispatch." Looks like he does have some bylines at stltoday.com but not too recently. (We sent him an e-mail to see if he has any more specific details on his current arrangement with the P-D or if he wants to respond further to Milhaven.)
Here's what Milhaven's program looks like on stltoday.com now.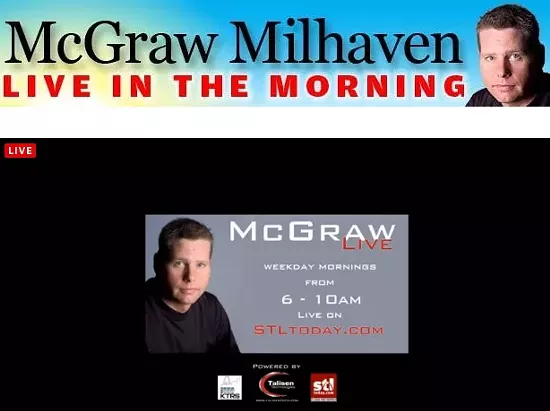 FWIW, this is not the first time Milhaven has gotten in a dispute with another local radio host.
Update, 3:45 p.m.: Allman responded to Daily RFT just now telling us that he was just giving Milhaven crap -- and he says he dropped the op-ed gig with the P-D "a while ago." He writes:
with humor, I say, it really wasn't a back and forth. I crapped on him for being unlistenable and unlistened to and then waited for him to hand over to me the remaining few in town who do listen to him as he promotes my superior radio show. I am the number one talk show in town even with a limited promotions budget, but I try to enlist gullible people like McGraw to help me get even bigger. I hate Twitter, so I'm glad McGraw took the gum out of his mouth long enough to Tweet for me.

as for the op-ed job...I left that a while ago...in part over an impasse that occurred when one of my op-eds opposed one of their eds.
Update 2, 7:40 p.m.: Daily RFT just heard from Milhaven, who offered us this response to Allman's response via e-mail:
I only know Jamie to say hi. In fact, this twitter exchange could be the most we've ever communicated. I think he and I do very different radio. I don't do crazy, and I don't do, "let's see who we can goat into a faux argument".

Unlike Jamie, I love twitter, which is why I find it amusing that while he was busy at midnight, Saturday night of a three day weekend, trolling my twitter feed to pick a fight, I was enjoying the Lake of the Ozarks with old friends and my new black lab, Molly.

As a TV veteran, I have to give him credit, he noticed correctly, while watching my new TV show on www.stltoday.com that I have a bad habit of chewing gum on screen. That's something I need to stop. Tell him thanks for tip, and I do wish him well in his future endeavors.
Send feedback and tips to the author. Follow Sam Levin on Twitter at @SamTLevin.