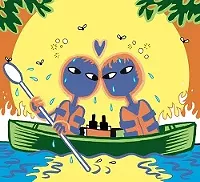 You're going to perspire this summer. A lot. Sometimes just stepping out the front door in St. Louis is enough to cause your sweat glands to spew like Old Faithful. Sure, you could run back into the air conditioning. But to do so is to surrender. And we St. Louisans are a tougher lot than that. Besides, sweating is actually good for you: It removes toxins from the body (according to the 28 seconds of scientific research put into this article). So go ahead and break a sweat this summer with some of the following fun, outdoor activities.
Fruit picking: Traversing through peach fields at Eckert's Orchards (951 South Green Mount Road; Belleville, Illinois) in the summer heat can be quite taxing, but the rewards far outweigh the work. At Eckert's, strawberry season begins in May, blackberries ripen mid-June through July, peaches are ready for the picking early July through early August, and apples begin to ripen in early August, too. After a trek through the fruit fields, relax at its Orchard Cafe & Grill or Eckert's Country Kitchen: Both incorporate the farm's fresh fruit and produce into menu items. Eckert's also offers a bakery and custard shop, as well as a country store and garden center, if you'd like to buy additional produce or grow your own.
See also: - 25 Reasons to Love St. Louis in the Summer - 11 Best Food Events This Summer - 7 Can't-Miss Summer Cocktails Available at St. Louis Bars, Restaurants
Outdoor yoga: Yoga serves to calm and strengthen mind and body, and in warmer months, nothing complements Vinyasa quite like stretching in the great outdoors. Now through September 28, the South City Family YMCA hosts free hourlong yoga classes on the grounds under the Gateway Arch in downtown St. Louis every Saturday at 9 a.m. Students who register online can also receive free parking in the Gateway Arch garage. For more information, visit www.gatewayarch.com.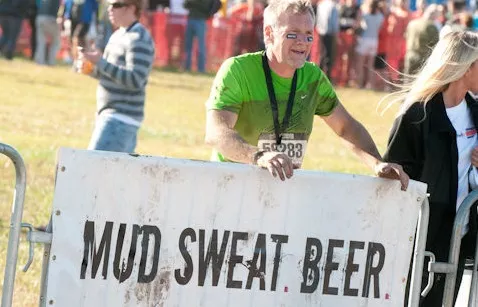 Obstacle courses: Marathon running is a traditional way to put your body through its paces, while the Tough Mudder simply obliterates them. It lays out a ten- to twelve-mile obstacle course designed by the British Special Forces, all the while trudging through the dirt and mud. Challenge yourself this year when Tough Mudder comes to Shamrock One (1416 County Road 1053; Montgomery City), a healthy 90-minute drive west of St. Louis, on Saturday, September 14, and Sunday, September 15. Proceeds from the Tough Mudder benefit the Wounded Warrior Project. Registration ranges from $115 to $180. For more information, visit www.toughmudder.com. Two weeks later the Warrior Dash (950 State Hwy 00; Wright City), offers a similar muddy obstacle-course run an hour outside of St. Louis. The dash begins at 9 a.m. on Saturday, September 28, with thirteen waves of 500 competitors fighting to conquer the 3.17-mile course. Challenges at Warrior Dash boast menacing names such as "Warrior Roast," "Cliff Hanger," "Road Rage" and "Petrifying Plunge" -- just to name a few. Registration includes the entry fee, complimentary beer, a fuzzy warrior helmet and a Warrior Dash T-shirt, medals for winners and more. Entry costs $50 to $80. For more information, visit www.warriordash.com.
Next up: Boating/biking under the stars and more. Boating under the stars: A moonlight paddle-boat ride through the lagoons of Forest Park (6101 Government Drive; 314-367-2224) paints a charming, relaxing tableau Ñ but trust us, it's only one of those things if you're in charge of paddling the whole time. Take in the park's natural and well-manicured beauty while gaining buns of steel this summer with a moonlight paddle-boat picnic for two in Forest Park on Thursday nights from June through September. Register online, and the Boathouse will furnish a picnic basket with your choice of food and drink (including buckets of beer and bottles of wine). Moonlight boats launch at dusk and must return by 10:30 p.m. The cost for two people is $75.94.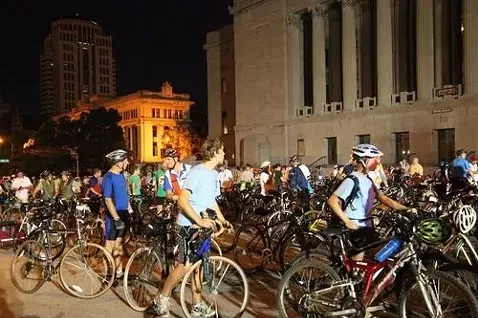 Moonlight Ramble: Biking at night can be dangerous if you're unprepared or riding alone Ñ but at the Moonlight Ramble, billed as the "world's original nighttime bike ride," neither of those issues is a concern. This year marks the ride's 50th anniversary in St. Louis, kicking off at midnight on Saturday, August 17, at Busch Stadium Parking Lot C (Eighth and Cerre streets) and moving through the streets of St. Louis Ñ the route is top secret until the night of the ride. Join the ramblers with your bike in tow and receive a glow-in-the-dark commemorative T-shirt to wear on the ride as part of your registration fee. After the rambling winds down around 1 a.m., stick around for an after-party with snacks and drinks till 3 a.m. For more information visit www.moonlightramble.com.
I Love Beer Run: The reward for completing this 3.1-mile run through Lafayette Square on Saturday, June 8, is all the St. Louis craft beer you can drink. A pretty fair trade, in our estimation. The race begins at 5 p.m. on Mississippi Avenue between Park Avenue and Kennett Place, with a 5K route that ends at the starting point. Registration is $40 and grants runners entry to the race, an official race T-shirt, a bottle opener and beer samples from nine local breweries, including 4 Hands, Urban Chestnut, Perennial Artisan Ales and more. A portion of proceeds benefits Cure AHC, a nonprofit organization seeking to find a cure for alternating hemiplegia of childhood. For more information, or to register online, visit www.ilovebeerrun.com.
Trailnet bike rides: Thanks to the bike-path-blazing experts at Trailnet, there's nary a week without an organized bicycle ride once temperatures reach 60 degrees. On Saturday, June 8, the group points its spokes toward Route 66 with a ride at 9 a.m., beginning at Cassens Transport Company (145 North Kansas Street; Edwardsville, Illinois), and travels flat, rolling terrain, ending near the Route 66 Festival in City Park (101 South Buchanan Street; Edwardsville). Bike routes for this ride include extra-short, short, medium and long, and people of all ages and levels of experience are encouraged to join. Registration for the ride takes place from 7:30 to 9 a.m. at the starting point. Cost ranges from $3 to $15. For more information, visit www.trailnet.org.