St. Louis county police believe a man raped two Asian women in separate cases in the summers of 2011 and 2012 in the same area -- and with the cases still unsolved and the suspect still on the loose, officials are warning residents to stay vigilant. In part, that's because it's summer once again and, police say, there is always a concern the same man could strike a third time.
"We're not giving up on it. We're still working," police spokesman Randy Vaughn tells Daily RFT of the investigations. "So far, he's always targeted Asians and he's always done it in the summertime."
He continues, "It would just be naive of us not to bring it up again."
And police, he says, still want tips to try and help locate the man behind these violent sexual assaults.
"It is important that we remain safe by staying vigilant and remembering to take care of one another," county police say in a statement on the two cases.
The suspect, the department says, was behind two rapes. The first happened on April 4, 2011 on the 10300 block of Sannois Drive and the second incident on the 12800 block of Fee Fee Road, just a few miles apart in northwest St. Louis county.
Both cases involved "similar patterns of criminal activity," police say. The department last year had a town hall at a high school to address concerns over the incidents.
This is what officials know about the suspect:
A collective description of the suspect from the two incidents is a possible Hispanic male having short black hair, short facial hair, heavy build, 5'6" to 5'8" in height and approximately 40 years of age.
Vaughn tells us that there is a forensic link connecting the two incidents.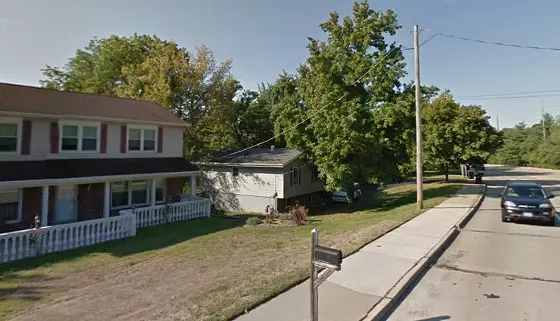 via Google Maps
Fee Fee Road where police say the second rape took place.
"There's no doubt...that these are the same person," he says, adding that police don't know whether he is a local suspect or if he comes from out of town.
"We're not taking any chances," he says. "We just wanted to get it back in the news."
And investigators still are hoping for more tips.
"The smallest piece of information can tip the scales in an investigation like this," Vaughn says. "We all need to work together. We are nothing without citizens and witnesses.... We're listening if you have something to say."
Police say that anyone with information can contact the county police department at 314-889-2341 or Crimestoppers at 866/371-TIPS.
Here's the full press release the county sent out yesterday:
Send feedback and tips to the author. Follow Sam Levin on Twitter at @SamTLevin.