Springfield City Councilman Doug Burlison believes that marijuana can be a helpful medicine and that it's time to stop treating it like such a harmful, dangerous drug. Compared to other local elected officials, however, he is very much in the minority -- so much so that his colleagues continue to reject efforts to pass a minor reform that would reduce the punishments for low-level possession cases.
The council once again voted down the initiative this week.
"That's the really frustrating part -- we're talking about a very miniscule lessening of the harshness of penalties," Burlison tells Daily RFT. "I'm extremely disappointed."
This time, however, his colleagues and the mayor may have to deal with more than just criticism. Marijuana advocates are now strongly considering a lawsuit.
On what grounds?
A civil rights violation, they say. The proponents of these reforms argue that elected leaders in Springfield have squelched their efforts by finding ways around the procedures outlined in the city charter.
See also: - Marijuana Decriminalization Bill Gets Hearing on Last Day of Missouri Session - After Success With Pot Law Reform in St. Louis, Activists Look to Kansas City - St. Louis Cannabis Conference: Pro-Pot Cop Says "The Public is Waking Up"
The proposal is a basic decriminalization effort -- a move to have possession offenses under 35 grams be treated more like traffic tickets that don't unfairly burden suspects and stain their criminal records. The city of St. Louis just passed a similar measure, which will officially go into effect in June and cannabis activists in the state are hoping other cities will do the same.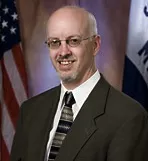 In Springfield, it's quite complicated.
It's worth noting that none of these measures function as legalization. Locally and across Missouri, marijuana remains illegal -- even if there are supporters who do hope to see an end to prohibition in the state.
In Springfield last year, Burlison explains, citizens collected enough signatures for a successful initiative petition, which, based on city rules, means the government has two options. The council can directly pass it or it can bring it to a vote of the people on the ballot.
"We created a third option that's not really listed in the charter," Burlison says.
The council, he says, passed it -- and then repealed it.
"We as a council subverted the will of the people," he says.
Show-Me Cannabis, the Missouri advocacy group that has led these reform efforts, tried to help negotiate yet another compromise this month. But John Payne, the group's executive director, tells Daily RFT that the council even rejected a watered down version this week.
At this point, Payne says, it seems the advocates have no other option but litigation.
Continue for more from John Payne and Doug Burlison on the Springfield dispute.
"You have a right to petition your government," Payne says, arguing that Springfield leaders can't just block this issue from even getting a vote when supporters have collected the necessary signatures.
Springfield Cannabis Regulation, a local affiliate to Show-Me Cannabis, could lead a suit against the city. Payne says the groups are currently in discussion.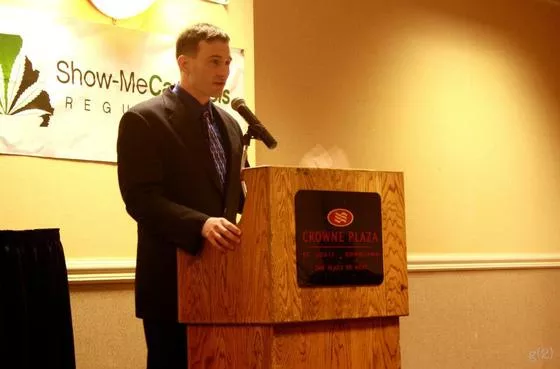 John Payne of Show-Me Cannabis.
"A lot of politicians are just afraid," Payne says. "They see the policy arguments for changing it but they are stuck in this idea that drugs are bad and we have to send a message to kids.... You are arresting a large chuck of every new generation. That's not really an effective message."
(Daily RFT left messages with the Springfield mayor, city attorney and a council member who has opposed these reforms; we'll update if we hear back).
Of a potential lawsuit, Burlison says, "I think their claims are justified."
Speaking of current marijuana policies, he says, "I just think it's borderline insane to keep Prohibition Era-type politics in place."
Supporters of reforms -- whether minor reforms or full legalization -- argue that current laws against pot create an unnecessary drain on limited law enforcement resources and are hypocritical given society's treatment of alcohol, a more harmful substance.
"I would hope that down the road, we would just get rid of any restrictions on cannabis products and hemp products," Burlison says.
Marijuana has proven to be an important medicine for some disorders and diseases, he argues.
"I'm even hesitant to call it a substance," he says. "It's a plant product that's safer than alcohol."
Send feedback and tips to the author. Follow Sam Levin on Twitter at @SamTLevin.