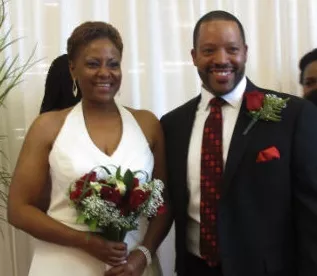 Courtesy of Schnucks.
Angela and Gerald Taylor.
Angela and Gerald Taylor might just be the most devoted Schnucks customers in the company's more than seven decades in business.
Early in their relationship, Gerald took Angela on a date to a Schnucks grocery store. Since then, they've had regular Friday date nights there. They've had birthday parties at the store. And this month, the couple had their wedding ceremony inside the Des Peres Schnucks. With Schnucks catering, of course.
"It's just a special place," Angela Taylor, 50, tells Daily RFT, adding of her wedding, "It was wonderful. We wouldn't change anything about it, absolutely nothing."
See also: - Schnucks: Twenty Customers Who Won't Give Up On Supermarket No Matter What - Schnucks Credit Card Lawsuit: Could Company Owe Millions of Dollars? - Boy, 5, Found Wandering Schnucks Alone at Night, Doesn't Know His Last Name
Gerald, an ophthalmic technician, and Angie, a patient-service representative at Washington University, met five years ago in a spin class, she says. They both grew up in St. Louis city, and they both turned 50 at the end of last year.
Ever since they began dating, Schnucks has meant a lot to them, she says.
Courtesy of Schnucks.
Schnucks cake made by Jodi Schweiss.
"We started going there when it first opened," she says of the Des Peres grocery store on Manchester Road, which opened in that location by West County Center in 2009. "When we first went, Gerald said, 'I'm going to take you out to dinner,'...and I'm like, 'We're not going to have dinner at a grocery store!'"
But they did.
"And we've been going there ever since," she says.
They've both organized birthday parties for each other at that location, she notes.
And somedays, she says, "It's breakfast, lunch and dinner at Schnucks."
"You know how you have that one restaurant you really like? That's Schnucks."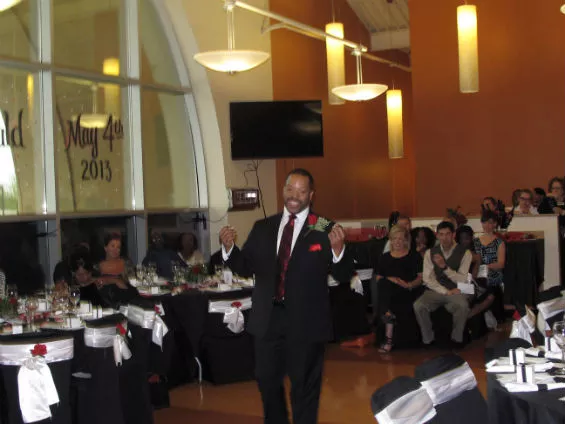 Courtesy of Schnucks.
Lettering on window done by Schnucks teammate Freddie Lauber.
She adds, "Every Friday, that's our date night."
Continue for more on their wedding ceremony and for more photos.
For their 50th birthdays last year -- which are two weeks apart -- they went on a trip to Las Vegas. There, they spontaneously decided to tie the knot.
But when they got back home, they realized they wanted a formal ceremony for their friends and family. And why not at Schnucks?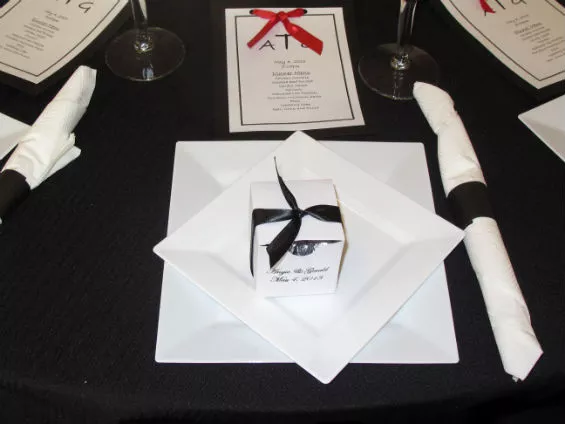 So on Saturday, May 4, the two had a ceremony and reception inside the Des Peres grocery store. They had nearly 100 guests, and Taylor says it looked nothing like a supermarket.
"It was unbelievable," she says. "It would just blow you away. It was unreal."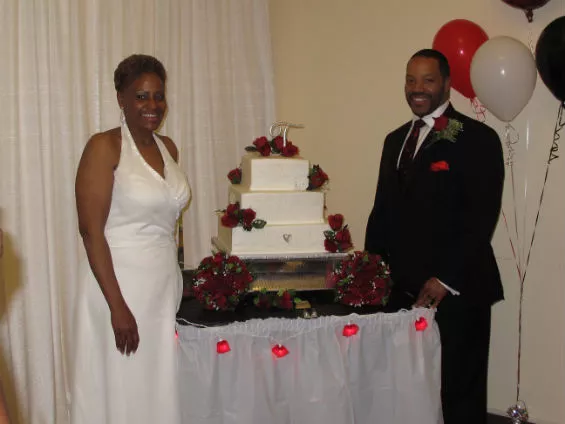 They bought their cake and other supplies right from the store, she says.
"They had everything you could've possibly needed for a wedding," she says.
Continue for more photos of the wedding.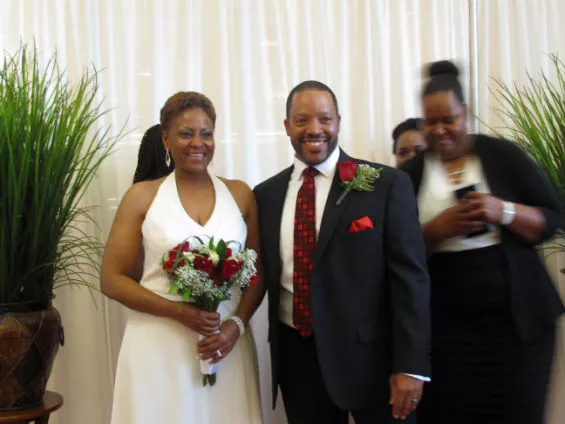 All photos courtesy of Schnucks.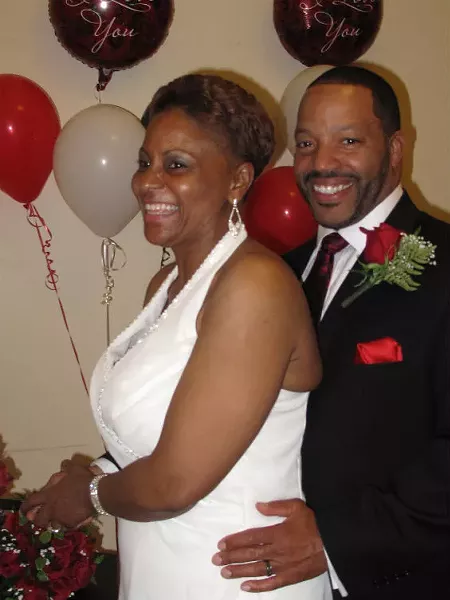 Send feedback and tips to the author. Follow Sam Levin on Twitter at @SamTLevin.