As we reported yesterday, Phineas the Dog, who lives in Salem, could be put to sleep -- after a long, bizarre battle in the south-central Missouri city. In response to a biting incident a year ago, Salem officials ruled that the three-and-a-half-year-old labrador retriever must be euthanized, sparking outrage from the family and now supporters from around the globe.
The parents of a little girl who was bitten have even urged the city not to put dog to sleep. And now, the dog has a high-profile fan that is bringing even more attention to this small-town saga: David Backes, captain of the St. Louis Blues.
Backes and his wife, Kelly, have offered to fly down to Salem, rescue Phineas and bring him to a no-kill animal shelter in St. Charles.
See also: - Phineas the Dog: Family Fights to Stop Salem Officials From Putting Pet to Sleep - Jim The Wonder Dog Who Predicted the Future Could Be Missouri's Official Dog - Man Accused of Dragging Puppy "Like It's a Stuffed Animal" Says Vet Told Him To
Kelly Backes sent an e-mail to Joe Simon, the attorney who has been fighting to keep Phineas alive, saying that Five Acres Animal Shelter is willing to take in the dog. She says she and her husband are happy to personally fly down to Salem to rescue him and bring him to the shelter, which is interested in helping.
The couple has a record of advocating for animal rights.
A spokesman for the Blues confirms to Daily RFT that Backes is trying to help in this case.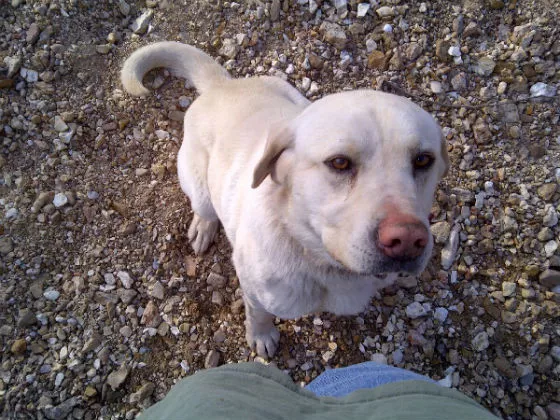 Courtesy of Joe Simon.
Phineas the dog.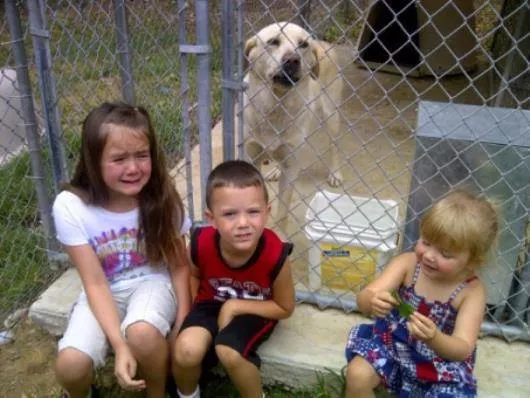 Courtesy of Joe Simon.
Phineas saying goodbye to the children in the Sanders family.
As a quick recap: After Phineas bit a seven-year-old girl last June -- a neighbor of Salem residents Patrick and Amber Sanders, who own the dog -- the city took the dog away and eventually ruled that he must be euthanized. The city argues that Phineas had been involved in three biting incidents and that, according to city ordinance, must be put down. The family disputes the past incidents and says the most recent one was minor. The biting victim's family never even pressed charges.
As litigation to stop the euthanasia moves forward, the latest dispute in this case -- and controversy for Salem -- has centered on the whereabouts of the dog and whether the city is properly taking care of him.
Austin Denton, a Salem resident and volunteer firefighter, says that the city was holding the dog in the basement of the fire department -- and that the conditions were less than ideal. He claims that officials, pressured by higher-ups, told him not to tell anyone about Phineas' location. In the meantime, he volunteered his time to take care of the dog, play with him and feed him, he says.
David and Kelly Backes, advocating for animal rights.
When he did speak up, Denton says, he was let go from the department as retaliation.
"He had no ventilation, no air flow, no human contact," Denton tells Daily RFT. "I found the dog in the basement of the firehouse and was taking care of him."
He says many firefighters didn't even realize Phineas was there.
Denton says his bosses wanted to be helpful, but, "This is just a big political issue."
But there was a silver lining. After he spoke up, word reached David Backes -- who personally called Denton on the phone.
Continue for more on David Backes and response from Salem officials.
"I was in shock," Denton says of his call with the Blues captain. "He said thanks a lot for what I was doing, and that they supported me 100 percent, and that if I needed anything, let me know."
He says that Backes told him he would be willing to help take the dog to the shelter until the matter was sorted out.
Courtesy of Joe Simon.
The fire department location where officials were reportedly holding Phineas (video here).
Brad Nash, chief of the volunteer fire department, tells us that he can't comment on the specifics of personnel matters, but says that Denton was "placed on leave...for unrelated issues."
He says it had nothing to do with Phineas.
"The accusation that he is making is definitely not true," he says.
He also says that the Missouri Department of Agriculture found the conditions to be acceptable.
"They did an investigation and found no issues whatsoever," he says.
Courtesy of Joe Simon.
Phineas and Lexi, age seven.
Salem mayor Gary Brown -- who made the initial determination that the dog should be euthanized -- tells us that the city is taking good care of Phineas. "He would be let out and walked and played outside. He was not kept in any inhumane way at all."
Phineas is no longer at the fire department, says Nash, who tells us the city has moved him elsewhere (and he does not know the new location).
Meanwhile, city officials met yesterday in private to to discuss the ongoing litigation. The next court date is scheduled for May 23.
Here's video of David and Kelly Backes advocating for dogs and cats.
David and Kelly Backes Speak Up for Minnesota Dogs and Cats from Animal Folks on Vimeo.
Send feedback and tips to the author. Follow Sam Levin on Twitter at @SamTLevin.