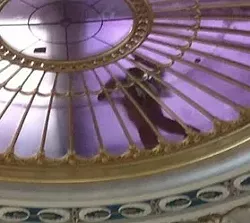 via @DavidALieb
(Fake?) body on house ceiling.
It's the second to last day of the Missouri legislative session, and things are getting pretty weird. And, no, we're not talking about seersucker suits.
This morning, a body appeared on the glass ceiling of the Missouri House of Representatives in Jefferson City. It is hopefully just a dummy of sorts as part of some practical joke. (Remember things, do get silly in Jefferson City, sometimes!)
A House spokesman tells Daily RFT just now that he is not aware of the situation, but will look into it. Meanwhile, the leadership, it seems, has made a joke about it, soooo...we're hopeful it's just a bizarre final-week gag and not a horrible tragedy. We'll update when we know more. In the meantime, more photos and tweets below.
Apparently, it disappeared shortly after the tweets began.
House Speaker Timothy Jones is on it.
Others have jokes, too, apparently:
We'll let you know if we find out more!
Send feedback and tips to the author. Follow Sam Levin on Twitter at @SamTLevin.