The debate around the privacy of gun owners has dominated the legislature this session, with Republican lawmakers' persistent outcry regarding record-keeping in the state. The worry is that the Missouri license bureau, under the direction of Democratic Governor Jay Nixon, could be collecting and storing documents for some sort of gun registry -- and collaborating with the feds in the process.
A bit lost in the discussion, however, are concerns from critics of this Republican agenda who argue that efforts to ensure the privacy of gun owners could have serious public safety consequences. That is, that these reforms could make Missouri more vulnerable to fraud, terrorism and other security risks.
"What they're attempting to do here is protect, at all costs, concealed-carry," Democratic Representative Stacey Newman tells Daily RFT. And some national security experts say these privacy initiatives of the Missouri GOP could create obstacles for law enforcement.
In response, Republicans say they cannot compromise on privacy rights and that Missouri is clearly violating state law with its current practices.
As a quick background on this debate, Missouri lawmakers for months now have been slamming the license bureau -- a branch of the department of revenue -- for collecting and retaining a variety of documents of concealed-carry applicants. The controversy erupted when a Stoddard County resident made accusations of privacy violations in a lawsuit after he tried to get his concealed-carry endorsement.
Lawmakers have since threatened substantial cuts to the department of revenue and have proposed a string of measures that would ban the state from collecting any of these documents going forward -- and require them to destroy those on file. Some are also pushing to make concealed-carry applications easier by eliminating the license bureau from the process altogether and leaving these endorsements to sheriff's offices. Yesterday, in what is now the final week of the legislative session, the House overwhelmingly approved the bill to bar the scanning of documents -- with amendments specific to gun-owner protections.
Republican ad campaign pressuring Nixon on this issue.
If Republicans are successful in their efforts, some say it could become easier for people to get away with identity fraud in Missouri and it could hinder a range of public-safety efforts, including law enforcement tools like biometrics and facial recognition.
Brian Zimmer, president of Coalition for a Secure Driver's License, a nonprofit based in Washington, D.C., outlines some of these concerns. His group focuses on crime prevention efforts through secure driver's license and ID processes.
"Laws restricting the state's ability to retain records regarding concealed carry gun licenses are potentially dangerous to public safety," Zimmer tells Daily RFT in an e-mail. "That's because they undermine the ability to confirm the integrity of the permit process, by removing the availability of auditable records. In essence, there's no way for state officials to confirm guns are not going to criminals or those on terrorist watch lists."
He says that retaining records can be very important. "The most obvious reason is to confirm that no dangerous person, such as a certifiably crazy person (i.e., people like the Sandy Hook shooter or the Virginia Tech shooter) has access to direct purchase of firearms. Federal counter terror laws also bear on these requirements, as illustrated recently by the investigation following the Boston Marathon terrorist incident."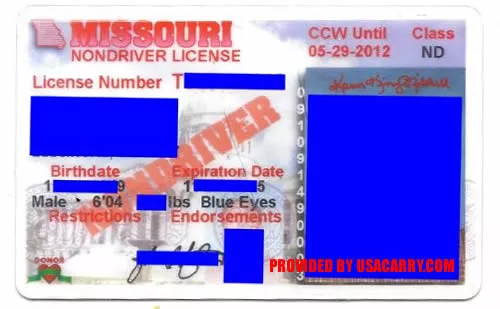 Example of the concealed-carry license endorsement in question.
Many states, Zimmer points out, have adopted so-called "biometric solutions" to crime-prevention efforts, with more than 40 utilizing facial-recognition technology to prevent identity fraud at license agencies. Officials have detected thousands of imposter fraud cases through this method, he adds.
Continue for response from GOP critics of the revenue department.
The privacy of law-abiding gun owners in many states is already protected through laws that restrict access to their information and records except when there is a specific criminal charge or investigation, Zimmer notes.
One opponent of the GOP bills sends Daily RFT stories from New York and New Jersey of successful anti-fraud initiatives that utilized facial recognition technology in crime-fighting efforts. (In New York, officials recently announced that they've investigated 13,000 identity-fraud cases through this process.)
Kurt Schaefer, a Republican State Senator who has been one of the leading critics of the revenue department, tells us that citizens of Missouri deserve basic privacy assurances.
"Could you do procedures that provide more security? The question is where's the line on that?" he says. "We don't throw the Fourth Amendment to the wind...so that anyone can come into my house without a warrant."
If the government could just violate everyone's privacy with warrantless searches, for example, he says, "Would that result in us finding more crime? Absolutely. Would anyone think that is acceptable? No."
He continues, "How much personal privacy do you give up in the name of security?"
And regarding the use of biometrics, there have to be limits, he adds. "Is it really acceptable to take all of that technology and use it in an absolutely unfettered way?"
In Missouri, it's time to end all scanning of documents in the state, he says. It's wrong for any list like this to exist in the state, he says.
Of the Nixon administration, he adds, "They've been incredibly secretive about this issue and they don't want to have a public discussion."
Carl Bearden, executive director of United for Missouri, a conservative group which has launched an ad campaign pressuring Nixon on this issue, says, "There is no legal authority for them to do what they are doing now."
(He and other critics of Nixon have argued that the governor is violating a law passed in 2009 specifying that Missouri would opt out of the federal Real ID Act, an anti-terrorism initiative.)
Bearden says that facial recognition is not necessary and that a wide array of residents, not just Republicans, want to ensure their privacy is protected. "They totally underestimate that this is a real issue with Missourians."
Spokespeople for the governor and the revenue department did not respond to a request for comment last week.
Send feedback and tips to the author. Follow Sam Levin on Twitter at @SamTLevin.