Mike Bizelli via
Missouri puppy mill.
Missouri has the worst puppy mills in the nation -- and lawmakers in the state are working hard to make sure it stays that way! So says the Humane Society, which announced this week that Missouri ranks No. 1 for terrible puppy farms in the United States and is now going after a piece of legislation that passed yesterday which critics say is designed to block all anti-cruelty efforts.
"It's a pro-puppy mill bill," Amanda Good, Missouri state director for the U.S. Humane Society, tells Daily RFT. "We're going to start an education campaign and make sure the public knows exactly what this resolution is."
She is referring to House Joint Resolution 11, a so-called "right-to-farm" bill, which, she says, is just a puppy mill industry effort to avoid all regulation.
The proposal comes from Representative Jason Smith, who is currently running for Congress. The bill proposes a constitutional amendment, which means voters will have to directly approve it on the ballot.
And Missouri residents will have that opportunity in 2014, with lawmakers giving final approvals yesterday to Smith's bill. There is no veto option in this case, so voters will be weighing in on "right to farm" next year.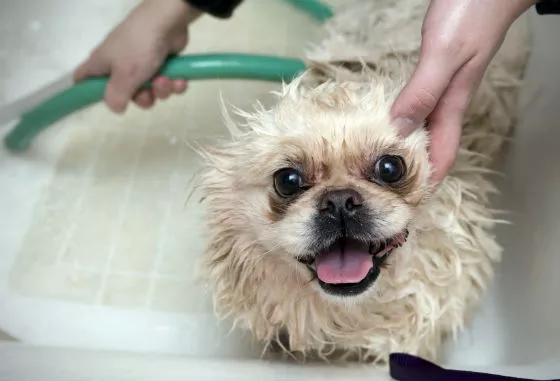 Rescued animal from Missouri puppy mill gets a bath.
Smith did not respond to a request for comment yesterday, but has argued that the bill is a measure to protect the state's vital farm industry. He wrote on Twitter:
As written, the constitutional amendment says "the right of farmers and ranchers to engage in farming and ranching practices shall be forever guaranteed in this state."
The problem, according to the Humane Society, is that farming in this context, applies to dogs and cats as well, meaning the amendment, if approved by voters, could be used to block anti-cruelty regulation and even to try and undo past animal rights victories.
Good says this is direct payback against the narrow passage in 2010 of Proposition B aimed at curbing the cruelty of the state's notorious puppy mills. And Smith and other supporters do say the bill is an effort to push back against assaults on the rights of farm families.
Continue for more response from the Humane Society and for the full bill.
If voters approve the measure, "There's no way we can pass laws here in the state to protect animals," Good argues.
"This is going to restrict the state legislature from passing any bills that have to do with animal welfare," she says.
via Facebook
Rep. Jason Smith.
We'll update if we get a chance to speak with Smith.
In the meantime, here's a copy of the final version of the approved bill.
Send feedback and tips to the author. Follow Sam Levin on Twitter at @SamTLevin.