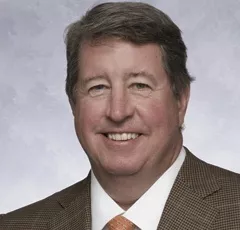 Here at Daily RFT, we've been following the Schnucks cyber attack controversy pretty closely, chronicling the various apologies and legal complaints the company is facing tied to a security breach that left millions of customers' credit card numbers vulnerable.
In our reporting, we've kept an eye on the hundreds of comments on Schnucks' Facebook page and while there are many angry customers who say they will never be coming back -- unless they are offered some serious coupon deals! -- we've noticed there are a handful of hardcore Schnuck devotees who will not abandon the local store. At any cost! The business is really a victim here, too, they argue.
So today, we bring you twenty reasons to continue shopping at Schnucks -- from its most vocal and loyal customers.
All posts below from Schnucks' Facebook posts on the security breach, where there are also many more comments of anger from self-professed ex-customers.
20. Banks Will Help You!
Natasha writes: Believe it or not this happens more often then people think! I use to work at a bank and debit cards and credit cards would always get hacked. If you are upset about the situation then get rid of all plastic and only use cash bc there's a good chance it'll happen to you again somewhere else!! I've been hacked 2 or 3 times by different places... Banks work with you on getting your money back!!
19. Don't Put a Local Company Out of Business
Mary Jo writes: I cancelled my card when I found out about it. I finally talked to someone from Schnucks Corp. and they handled both my questions with class. I have to eat crow. They are offering consumer credit for free, plus they offered to reimburse me for my debit card that I wanted overnighted. But hoping the mail gets it to me before I have to do that. I will continue to use Schnucks, the people know me there. I will use cash for awhile. I will not sue and try to put a local company out of business!
18. The Hackers Are To Blame
Molly writes: People should be angry at the hackers, not schnucks!
17. Think of the Employees
Lindy writes: I feel terrible for the employees honestly... I work retail and probably use my card 3 times a day or more in my store buying drinks or snacks on break or shopping when I get off work. I bet most employees there do the same. They have angry customers yelling at them over the security breach and their cards have all been compromised too.
16. Every Business Is At Risk These Days
Jennifer writes: Every business is at risk for an attack. Unfortunately it happened to such a large one that is frequented by so many St. Louisans. It happens. I'll still be shopping at Schnucks.
Continue for more of the best commentary from Schnucks loyalists.
15. It Was a Minor Inconvenience
Holly writes: Even though my card was affected, I wouldn't want to be part of a class action suit. Why would I? It didn't cost me anything, a minor inconvenience of waiting a day for a new card and readjusting some autopayments. NBD I will continue to shop there. This could have happened anyplace. Now if it had cost me anything I would have liked to seen that given back to me.
14. Banks Can Save the Day. You Can Save Schnucks!
Staci writes: My card was compromised and I only used it once at Schnucks! Thankfully, my bank was on top of things! I love Schnucks! I will continue to shop there!
13. Schnucks > Walmart
Donna writes: I love Schnucks I will continue to shop there!!! This can happen any where including Walmart I would rather give my money to a local company who treats their employees right then a trashy place like Walmart!!! In fact if you do any kind of online banking it can happen so who's fault would that be hmmmm.
12. The Press Is Being Mean to Schnucks
Steven writes: All the press is on Schnucks. Not once have i heard a thing about if they are after the actual criminal here. Schnucks is a victim as well, only they probably wont recover their damages as each of us individuals have. It is a flawed system that has been allowed to get out of hand worldwide. The tightening needs to happen at the visa, mc level to stop it.
11. Scott Schnuck Once Bought Me Lunch
Shelley writes: Scott Schunck bought my lunch at Annie Gunn's one Christmas Eve afternoon many years ago. We were sitting at the bar all talking about "my Schnucks", little did I know Scott was sitting next to me. I have always been a loyal customer. I will continue to do so. Thank you.
Continue for more of the best commentary from Schnucks loyalists.
10. Quit Your Griping!
Sheila writes: For pete's sake. Quit griping. Bad things happen all of the time and Schnucks is trying to keep up with the cyberspace criminal activity. For those waiting for banks to reimburse them, call your bank, don't rag on Schnucks. Has anyone requested a new card from their bank? If not, your card could be misused months from now.Do your part and get a new one. How about the ATM heist with 40 million dollars taken by cyber criminals? This is what the Internet and cyberspace deals with today. http://www.nbcnews.com/video/nightly-news/51836005/#51836005. It is a risky world out there.
9. Nobody Is Perfect
Marian writes: Its not Schnuck fault.. it can happen to anybody and any place... everybody wants to point there finger at everybody else.. when they have 3 fingers pointing back at them self....Sheesh forgive and forget...I just hope and pray when judgment time comes.. God forgive the things you do.. nobodys perfect.. get over it...
8. Schnucks DID Respond Immediately
Sara writes: I have been impressed with how Schnucks handled this breach. They told the media immediately, involved law enforcement, and tried to protect their customers. Our bank took action on our behalf and issued us new cards. Our discover card was used fraudulently, but Discover caught it immediately and issued us new cards. This isn't the only company (TJ Max a couple years ago among others). Thanks to Schnucks for taking care to let us know and stop it as immediately as they could.
7. "Fraud Is A Way Of Life In America"
Laura writes: Please, people! It can happen to any business and unfortunately, fraud is a way of life in America and cyber fraud now is, as well. I was affected--twice, but I still shop at Schnucks, as well as Dierbergs. We need to support our local businesses! We are so lucky to have these awesome family grocery stores in St. Louis! Give them a break. This is uncharted territory--the same as laws, regulations and everything that has to do with technology these days! It is hard to keep up with the hackers!! Schnucks is doing the best they can with a terrible situation.
6. Do You Think Walgreens Would Try And Help You?
Kay writes: It is everywhere they stole my card numbers at Taco Bell in Jeff City Mo. It is a chance you take anywhere you go if you use a card. At least Schnucks is trying to correct it. Do you really think Walmart or Walgreens would work with you? They could care less I choose Schnucks over them anyday.
Continue for our top five comments from Schnucks loyalists.
5. How Could You Turn Your Back On Triple Coupons?!
Tabbitha writes: It amazes me how people are so quick to make a buck. People are pathetic and looks for ANY opportunity to sue. Its completely rediculous. "Oh I've been a loyal shopper and will never shop at Schnucks again". Why??? because of an unfortunate incident that occured!?!? Yes its a hassle, but YOU PEOPLE DID NOT LOSE ANY MONEY! if anyone is effected by this its not YOU....its Schnucks. All because of people such as yourselves who say they will no longer shop there. IT CAN HAPPEN ANYWHERE! YOU take that chance anytime YOU swipe you card. This happened to my husband at a QT. Did I stop shipping at QT? NO cause I got my money back. And so did YOU! I place you people who are looking to sue in the same category as the women with hot coffee. DONT BUY HOT COFFEE AND SUE BECAUSE ITS HOT! Pathetic people for sure! As for Schnucks. I apologize you are dealing with such an unfortunate situation. I will continue to shop at your store escpecially since you offer such good deals and triple coupons.
4. Outrage is Over the Top
Don writes: We all are fully aware that this can happen to any business at any time. It even happens to banks. To ask for compensation from the store is over the top & people are just wanting something for nothing in my opinion. Want to solve the problem? Use cash! This will not effect my loyalty to Schnucks in the least.
3. If You Sue, Lawyers Get Fat, We All Lose
Gale writes: Again it is to bad people think they Need to sue just to get free cash nothing is free and we all will pay for it later like always. Lawyers get fat we all lose.
2. LAY OFF MY SCHNUCKS
Hassie writes: As soon as they realized there was a problem they did "come clean". Takes a bit to realize something like this. SO LAY OFF MY SCHNUCKS.
1. Dear Schnucks: I Still Love You
Claudia writes: Dear Schnucks family...I'm still shopping at my community.
Send feedback and tips to the author. Follow Sam Levin on Twitter at @SamTLevin.