A late-night jog in St. Louis yesterday sent a young man to the hospital after a group of five teenagers attacked and robbed him, police say.
Three are in custody -- and two remain at large.
Metro police say that just after midnight, the 23-year-old man and a friend were joggning northbound on Leona Street near Carondelet Park when they observed a suspicious vehicle near them making a U-turn and approaching them. When the driver asked the man for directions, three teenage boys on foot appeared -- and began assaulting him, authorities say.
The incident happened on the 200 block of Leona Street.
In the car, police say, were two females, age seventeen and fifteen. They stopped the man and asked him for directions -- prompting him to approach.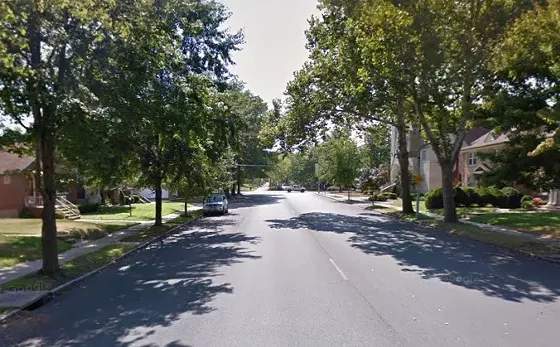 At the same time, three boys all around age seventeen, came up from behind, attacked him and stole his phone, cops say. Then they entered the car and drove off, northbound on Leona Street.
Soon after, however, officers located the vehicle and were able to arrest the two girls and one of the males, age seventeen.
The two other males, who police believe are around age sixteen, remain at large.
The victim went to the hospital and suffered minor injuries, authorities say.
Police have not yet released any names.
Here's the full incident report.
Incident: Robbery 2nd Location: 6200 block of Leona Date/Time: 5/9/13 @ 00:30 Victim: 23-year old white male Suspect #1: 17-year old white female Suspect #2: 15-year old white female (Juvenile) Suspect #3: 17-year old black male Suspect #4: unknown black male, age 16-18, 5'6, small build Suspect #5: unknown black male, age 16-18, 5'6, small build The victim and a friend were jogging northbound on Leona when they observed a tan suspicious vehicle parked near them. They kept jogging then observed the vehicle, containing 2 females, pass them, make a U-turn, then approach them from the rear. Suspect #1, the driver, asked the victim for directions. As the victim approached the vehicle, Suspect #3, Suspect #4 and Suspect #5, who were on foot, approached him from behind and began assaulting the victim and took his cell phone. All 5 suspects then entered the car and fled northbound on Leona. Upon investigation, officers located the vehicle. Suspect #1 and Suspect #3 were arrested. Suspect #2 was arrested and remanded to the custody of Juvenile authorities. Suspect #4 and Suspect #5 remain at large. The victim was conveyed to a local hospital with minor injuries. The investigation is ongoing.
Send feedback and tips to the author. Follow Sam Levin on Twitter at @SamTLevin.