Gavin Stark, a University of Missouri senior and baseball player, is accused of drunkenly causing quite a commotion on campus Monday night -- allegedly smashing a rock through a window, shouting profanities at officers and throwing a fellow student's computer to the ground.
Around 11:30 p.m. on Monday officers received a phone call that Stark was actively vandalizing the Reynolds Alumni Center. When they arrived, "Mr. Stark immediately assumed a fighting stance against the officers and started yelling profanities at them," Captain Brian Weimer of Mizzou's police department tells Daily RFT.
It gets a lot worse.
"He tried to flee the area," Weimer says, explaining that he was soon after apprehended without incident.
Police, however, made contact with an individual in the area who reported that Stark had done a lot more than just yell at cops.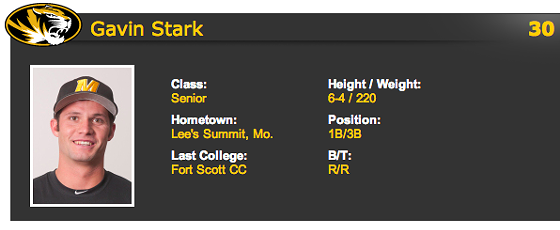 via mutigers.com
Stark's athletics page at Mizzou.
The fellow student told police that he was outside the alumni center when Stark picked up this student's computer and threw it down.
"When the individual confronted Stark about doing this, he started swinging and throwing punches at him," Weimer says.
He apparently did not actually hit the other student.
But, then, "Stark...picked up a large rock and threatened the individual."
That student decided to leave, but "as he turned back, he saw Stark throw that rock through one of the glass doors," Weimer says.
From there, the baseball player allegedly broke his way into the center and damaged lamps, lamp shades, tables and coffee cups (some of which was set up for an event the following day), he says.
Stark was charged with first-degree burglary, second-degree assault, first-degree property damage and felony resisting of an arrest, police say. Cops believe he was intoxicated.
His coach says in a statement that he is aware there was a situation and is trying to determine what happened. It appears that, for now, Stark has been suspended from the team.
The student was taken to Boone County Jail yesterday morning.
Send feedback and tips to the author. Follow Sam Levin on Twitter at @SamTLevin.