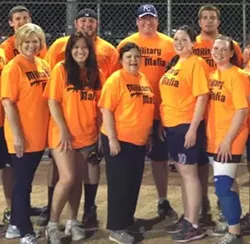 Did you know that the Missouri legislature has a softball tournament? And did you know that one of the teams this year was called Military Mafia?
Daily RFT and our reliable Jefferson City tipsters have got you covered!
Last week, the photo to the right, big version below, arrived in our inbox. An attendee snapped this shot of the team of lawmakers and staffers that chose the name Military Mafia and printed matching orange T-shirts with rifles on them.
But, the office of the team captain tells us, the theme has nothing to do with any gun debates at the Missouri State Capitol.
Here's the full shot.
Via an attendee of the softball tournament.
And a close-up of that T-shirt.
That photo includes Donna Lichtenegger, Rick Brattin, Sheila Solon and Jay Houghton, all Republican state representatives.
And State Representative Charlie Davis, also a Republican, was apparently some sort of team captain.
"It was a fun name," a representative from his office tells us, adding that it has nothing to do with any gun policy fights. "It was just a fight night."
And, his office notes, Davis is chairman of the House's veterans committee.
If you're craving more pics of lawmakers playing softball, the Missouri Times has published a full photo gallery.
Goooooo Military Mafia!
Send feedback and tips to the author. Follow Sam Levin on Twitter at @SamTLevin.