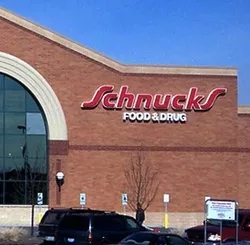 Did Schnucks wait too long to inform millions of shoppers that they may have had their credit-card information compromised because of a large security breach?
That's the question one attorney and Illinois shopper are raising through a recently filed class-action lawsuit, on view below.
"The key is going to be to determine...when they knew there was a problem and what they did about it," attorney Jeff Millar tells Daily RFT. "If they knew there was a problem on December 10, why wait around until March 30?"
Schnucks officials, however, say the suit has no merit.
As we reported last month, Schnucks, which was founded in St. Louis and operates 100 stores in the region, announced that 2.4 million credit and debit cards used at 79 of its stores may have been impacted by a "cyber attack" between December of last year to the end of March.
The issue has since been resolved, and Schnucks says that it is safe to shop at its stores. Affected customers may have their card-number and expiration date accessed, but not their name, address or any other identifying information, the company says.
Filed last week in the circuit court for St. Clair County, the class-action lawsuit alleges violations of the Illinois Consumer Fraud Act as well as the Illinois Personal Information Act. The suit has been brought forth by Laverne Rippy, a Granite City, Illinois, resident and shopper, and as a class-action suit, is also on behalf of all others impacted. The complaint says:
At all times relevant, [Schnucks] continuously and consistently failed to disclose to consumers...that it in fact did not have adequate systems in place to protect credit and debit card information against any violation or security breaches.
"Schnucks failed to give reasonable notice of the breach of their security," Millar says.
The suit cites the state law saying that "any data collector that owns or licenses personal information concerning an Illinois resident shall notify the resident at no charge that there has been a breach of the security of the system data following discovery or notification of the breach."
On another count, the suit alleges negligence on behalf of the company for not adequately protecting this personal data.
"They negligently failed to maintain their computer system," Millar says. "They had a duty to safeguard that data."
Schnucks, which is facing a separate lawsuit in Missouri, should be served a summons next week, Millar says.
Lori Willis, spokeswoman for Schnucks, tells Daily RFT, "On April 15th, we released the details of this incident, including a very precise timeline. Once you review that information, you will see why we believe this lawsuit has no merit."
Continue for more of Schnucks' response and a copy of the full complaint.
One of the arguments of Schnucks we can likely expect in this case is that the company disclosed information about the breach as soon as it could.
From an FAQ section of the April 15 announcement that Willis references:
Why did you wait until now to make this announcement? It was important that we acquired all of the facts. A cyber-attack is not like a bank robbery where you know immediately when it occurred and who was affected. The investigation of a cyber-attack requires painstaking analysis of digital evidence that takes time in order to determine what happened. Since we first received notice of this issue, our team and the computer forensics experts we hired have been working non-stop to find and contain the issue. The forensic investigation firm found the first indication of an issue on March 28, we contained the issue by March 30, and we have been working to identify affected stores and card numbers since then. From the outset, we have been communicating reliable facts and useful information as they became available.
The line about "first indication" on March 28 could be key in the company's defense regarding questions of whether officials waited too long to alert customers and thus violated Illinois statute.
"We have to determine when that malicious software was installed on their servers," Millar says, adding that the negligence allegations stand regardless of when the company released details.
Here's a video apology and explanation from Scott Schnuck, the company's CEO and chairman, released last month.
The company also published a timeline of the breach and its response, as well as full list of stores impacted.
Here's the full complaint.
The a motion for class certification.
2013-04-25 Mtn Class Certification
And a copy of the Schnucks news alert from last month.
SCHNUCKS RELEASES DETAILS OF CARD ISSUE AS INVESTIGATION NEARS END

ST. LOUIS - Leaders of St. Louis-based Schnuck Markets, Inc., today announced that between December 2012 and March 29, 2013, approximately 2.4 million credit and debit cards used at 79 of its 100 stores may have been compromised. The company emphasizes that only the card number and expiration date would have been accessed - not the cardholder's name, address or any other identifying information.

Schnucks has posted a list of the 79 stores and specific dates for each store at www.schnucks.com. In addition, Schnucks has distributed a timeline of the actions taken to investigate, find, contain, and share information about the cyber-attack, as well as a personal video message from Chairman and CEO Scott Schnuck.

"On behalf of myself, the Schnuck family, and all of our 15,000 teammates, I apologize to everyone affected by this incident," said Scott Schnuck. "Over the years, technology has helped us deliver superior customer service, but it also introduces risks that we have actively worked to manage through compliance audits, encryption technology and various other security measures."

"We've worked hard to provide a secure transaction environment for our customers and, today I make a personal pledge to you that we will be relentless in maintaining the security of our payment processing system. We expect that the actions we have taken and will take in the future will send a clear signal that our customers may continue to trust us," said Schnuck.

Schnucks has worked with its payment processor to make sure all potentially affected card numbers are sent to the credit card companies so that they may continue sending alerts to the issuing banks. Those banks will then be able to take steps to protect their cardholders, such as adding enhanced transaction monitoring or reissuing a new card. Many banks have already taken these steps.

"Customers have asked me if it is safe to shop at Schnucks," continued Schnuck. "Yes, we believe it is, and we will work hard to keep it that way."
Send feedback and tips to the author. Follow Sam Levin on Twitter at @SamTLevin.