Control your excitement, pal.
Sexy comics-reading beast Hugh Jackman is giving us the vapors.
You're nervous. Excited. Sweaty. Impatient. You just know that everyone else has done it a million times while you're bumbling around on the Internet searching for any sliver of information that might help you to not look like an idiot. You may as well write "virgin" across your forehead.
Don't worry, baby. We'll be your Dr. Ruth for Free Comic Book Day this Saturday.
Awww, you're trembling. Shhhh, it's ok. We once were innocent to the explosive joy that comes from FCBD, too. But now that we've learned how to maximize our trophies from this yearly pleasure, we yearn for the gush of emotions that only hand-drawn excellence can provide.
See also: - Jack Dorsey: Twitter Co-Founder Now a Comic Book Superhero (PHOTOS) - A-Z Highlights of Wizard World St. Louis - Star Wars vs. Star Trek: Which Space Saga Reigns Supreme?
What you need is a Free Comic Book Day guide, sensitive to your purity but explicit in showing you how to achieve the ultimate FCBD jackpot. But be careful; your pleasure center may be overwhelmed with nearly unlimited illustrated treats. Here, hold our hand; we'll go slow, we promise.
Sexy comics-reading beast Hugh Jackman is giving us the vapors.
1. Know what you're getting into: Free Comic Book Day is a special feast of nerd pleasures. On the first Saturday of May each year, stores across the nation -- including many here in St. Louis -- tantalize you with more than 100 special comic books at no charge. Hundreds of people take advantage of the gift, especially as the stores open, so you may be rubbing against bodies at times.
2. Taste more: It's not only the comic books that will delight your senses. Many stores also feature costumed characters, live music, artist interactions and food. The orgy of stimuli ensures that everyone leaves satisfied, but with a hunger to return as a paying customer.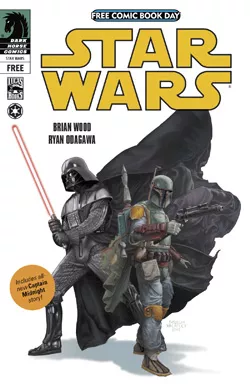 We're hoping Darth Vader and Boba Fett become "special" friends in this one.
3. Raise your lightsaber: Don't be embarrassed; we've all thought about Leia wearing her slave outfit in Star Wars Episode VI: Return of the Jedi. Keep that vision in mind when you visit the stores, because this year, Free Comic Book Day also happens to be Star Wars Day. A free Star Wars comic book is available, and you may see people cosplaying Leia, Han or a sexy twenty-something Anakin. Mreoww.
4. Best time? Morning would be right: If you wake up with your blood pumping hard, go ahead, get up and give into that feeling. Early birds definitely catch the best worms on Free Comic Book Day, as the super-collectable comics will be in demand as soon as your favorite store's doors open. Bring a list of the comics you want to grab -- or at least ogle.
5. Be promiscuous: Don't limit yourself to one store; explore as many as you can throughout the day. Some stores may run out of certain titles, while others overflow. Besides, different locations can fit different moods and desires, with a variety of freebies, discounts and entertainment. Try a few to find a new favorite or two.
Now that you know what to expect, are you ready to put what you've learned into practice? Visit the Free Comic Book Day website to locate stores near you and learn which comic books will be available. Gather information, eye your prey and pounce quickly on Saturday. Happy hunting!