Cabbies can wear this...but some religious garb is not approved?
Last month, we wrote about Raja Naeem, a local Muslim cab driver who says that the St. Louis Metropolitan Taxicab Commission is retaliating against him for his religious garb -- and continues to discriminate by punishing him for his choice of clothing.
In response, Metro Taxi Commission officials say that they maintain a standard dress code for cabbies -- and that they've tried to accomodate Naeem by giving him exceptions.
Given his ongoing legal fight, Naeem and his supporters were especially displeased when the commission recently promoted a dress code exception it would allow -- for Blues sports gear.
"It is very hypocritical," Naeem, 49, tells Daily RFT.
As a quick recap, Naeem, a long-time cab driver in the metro area, claims that officials with the commission for months have been harassing him over his choice to wear a kufi (a hat) and a kurta (a traditional shirt). He and his attorneys argue in a lawsuit that it's his Constitutional right to wear his garb and that the commission's actions amount to religious discrimination.
Naeem, who first made headlines last year when he said he was unfairly arrested simply because of his clothing, estimates that he has now received more than a dozen tickets with fines because of his clothing. "I need to sit down and count," he tells us.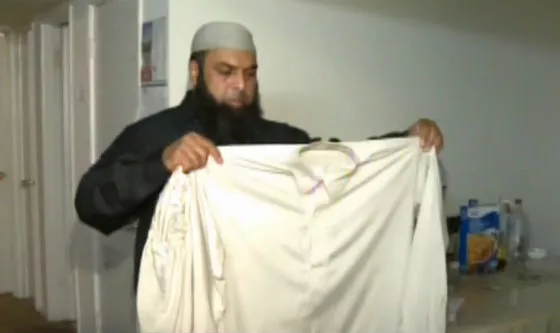 via KSDK
Raja Naeem.
The commission, which is responsible for his licensing, argues that they have a uniform code that Naeem, despite efforts to make compromises, continues to violate. (The commission says that he applied for a "variance" that was accepted, but that he's still not abiding by those outlined terms; Naeem says he's being repeatedly harassed for no good reason.)
The official code is a white button-down shirt and black trousers. And, temporarily, it seems that Blues gear is OK, too.
Mayor Francis Slay tweeted this on Tuesday:
"I think them giving a variance just for sports teams...when they come for the playoffs, that's sort of a slap in the face to Mr. Naeem," says Chuck Cole, another cab driver who has helped Naeem during the dispute. "They are purposely going after him because of his religious dress. He never had a problem before."
Drew Baebler, Naeem's attorney, says that it's nice of the commission to give this exception -- but it would also be nice if they didn't make it so hard for him to wear his religious garb.
"If you're going to side and favor one [variance], you think you'd side in favor of the Missouri Constitution," he says.
Baebler also says that the relaxed policy for sports teams pokes holes in the commission's argument that the dress code is an important safety matter which makes it easier for patrons to recognize them.
"Quite frankly, the big jerseys that are untucked and different colors are nearly as long as the religious garb that he wears," Baebler adds.
Ronald Klein, director of the Metro Taxicab Commission, says it's a very small minority criticizing this policy and that drivers like the opportunity to support local sports teams.
"We allow the cab drivers to get into the spirit of it," he tells Daily RFT. "[It's] community involvement."
Continue for more of our interview with Ronald Klein and more on Mr. Naeem's legal dispute.
"The feedback that we get is that drivers really enjoy it," Klein says, noting that they've given these variances for years for notable Cardinals games and other local sporting events.
It's good for business and fun, he says.
"People are in good moods when they get in the cabs," Klein says, adding, "They do a lot of business picking up customers for the Blues games."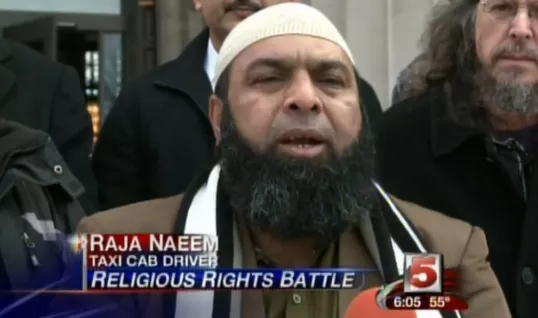 via KSDK video.
Raja Naeem speaking at a press conference last year.
He says that complaints about this policy are petty and that drivers appreciate it.
Naeem, who received notice of new commission fines this week totaling $300, emphasizes that his ongoing battle is about basic First Amendment rights.
"I'm a law-abiding citizen," says Naeem, who lives in Manchester and has four children, who are twelve, five, seven and four months. "Their code is not more powerful than the Constitution."
He also notes that he's a fan of the Blues and the Cardinals.
Here's a copy of Naeem's latest fine notice.
Send feedback and tips to the author. Follow Sam Levin on Twitter at @SamTLevin.