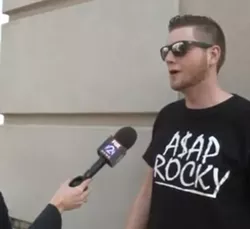 via KTVI
This guy knows the dangers of weed.
"It's a high that won't result in higher achievement."
So says KTVI (Channel 2) which has an earnest, in-depth, punny report on the dangers of marijuana -- after two Parkway West High School students allegedly brought pot brownies to school where they intended to hand them out.
From a marijuana advocate in sunglasses to the insight of stoner-looking teens skateboarding in the Loop, the news report has everything you'd want from a local television dispatch on pot. Video below.
A classmate apparently alerted administrators about the pot brownies, according to Chesterfield police, the station reports. The two will be suspended for at least eleven days and will probably face drug-possession charges.
But are pot brownies really dangerous? Let's hear from some local pot-smoking experts!
"That's not smart. It's a dumb idea. School's for learning," one guy says.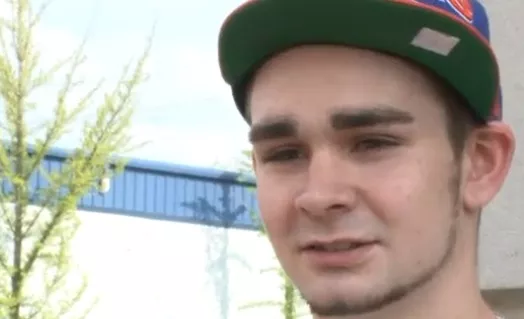 via KTVI
This dude knows what's up.
Another dude in a baseball has this opinion to offer about pot brownies: "Eating it, it's just, that'll get too much."
Not satisfied? The station also talked to Dan Duncan with the National Council on Alcoholism and Drug Abuse, who explains why some students might decide to bring pot brownies to school...instead of, ya know, pulling out joints and smoking in front of their teachers.
"For someone who wants to hide the fact that they're using marijuana, putting it in a food product will do that, as opposed to sitting there smoking it," he says.
Word.
"But getting baked on baked goods is not only illegal," the station warns. "It can result in a stronger and longer-lasting high."
Still not convinced?
Even the cannabis advocate who wants to legalize pot doesn't think youth should be doing this!
"Using marijuana at a young age can make you unmotivated," Brian Swasey, a supporter* of Show-Me Cannabis says. "it does have its consequences."
These guys have really stirred the pot!
*Correction: Due to an apparent error in the KTVI report, an earlier version of this post said Swasey was affiliated with Show-Me Cannabis when he is actually just a supporter.
Send feedback and tips to the author. Follow Sam Levin on Twitter at @SamTLevin.