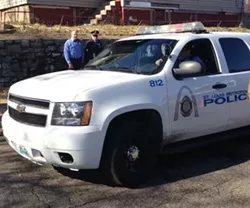 This week, a site called NeighborhoodScout.com released its list of "Top 25 Most Dangerous Neighborhoods in America" with St. Louis claiming two of the spots. Similarly to when other national crime rankings have put St. Louis at the top, local politicians and law enforcement officials are criticizing the report, saying the findings are based on poor methodology and provide an inaccurate picture of local crime.
"They don't reflect the reality that we know in the city of St. Louis and the region," St. Louis Metro Police Chief Sam Dotson tells Daily RFT. "It's frustrating, and it's disappointing."
The data is based on Federal Bureau of Investigation crime stats from 17,000 local law enforcement agencies across the country.
What neighborhoods made the cut?
See also: - Map Confirms Murder Concentration; City Urges a Look on the Bright Side - Back On Top: St. Louis Named Most Dangerous City in 2010 - St. Louis Is the Third-Most Dangerous City
The report, released on Monday, puts what is roughly the Columbus Square neighborhood (just north of downtown) in the No. 22 spot and the Fountain Park area in the No. 12 spot.
Here are maps of the exact boundaries of the defined areas in the study.
Cass Ave / N 9th St:
Delmar Blvd / N Euclid Ave:
The ranking is based on standardized FBI data on violent crime rates; the stats come from 2011, which is the most recent data that the FBI classifies as "final." The site uses U.S. Census Bureau data for neighborhood definitions and population counts and compares per capita ranks for the final list.
Andrew Schiller, founder of NeighborhoodScout, tells Daily RFT that the findings overall show that high crime rates in cities can often be traced back to neighborhoods with a high concentration of this activity.
"The total crimes that occur in a city, especially violent crimes, disproportionately are coming from a handful of neighborhoods," he says, adding that there are often larger social challenges contributing to these localized trends. "Law enforcement is oftentimes fighting the problem at the very tail end once there's already been a societal breakdown."
Dotson, however, says that the federal data the report uses is not meant for these kinds of comparisons. (The FBI discourages the use of this data in ranking law-enforcement agencies and comparing effectiveness in crime-reduction efforts.)
"They are sensationalizing," he says. "Like any urban core, we have challenges.... We address those. I don't see anything that gives me the pause that NeighborhoodScout is trying to create."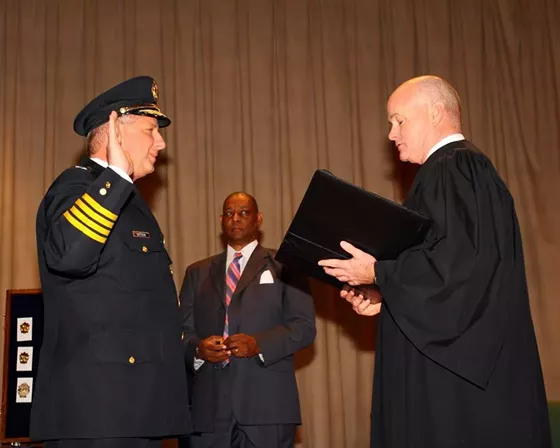 via Facebook
Chief Sam Dotson taking oath of office earlier this year.
Critics argue that this kind of ranking is flawed because there is no reference to the size of neighborhoods it is comparing and how that can skew the numbers.
The local blog nextSTL has published a post criticizing the report and one news station's uncritical coverage of it.
The post argues that these oversimplified numbers are little more than click bait -- and that it's irresponsible to take a total number and divide it by the number of residents and state "My Chances of Becoming a Victim Here."
Continue for more of our interview with Sam Dotson and response from the mayor's office.
Schiller says that this is the best, most recent data available, and that his site's report is the only one of its kind that looks at the local neighborhood level across the country. (One St. Louis neighborhood made the list last time he published this report.)
via Facebook
Chief Dotson, left.
Dotson also counters that crime is going down -- both in those highlighted areas and across the city. Crime is the lowest its been in decades, he says.
"These neighborhoods are actually doing fairly strong," he says, noting that a majority of the crimes are larcenies. Data shows that last year, there were 216 crimes in Fountain Park and 162 in Columbus Square. Year-to-date in Columbus Square, there has been a decline (comparing 2012 to 2013 stats so far). And last year, Columbus Square had zero homicides and Fountain Park had one.
"It's really unfair to categorize them," he says.
The department has focused on hot-spot policing, he notes, citing the policy of targeting areas with high crime rates for clean-up efforts and other initiatives aimed at discouraging criminal activity.
Maggie Crane, spokeswoman for Mayor Francis Slay, reiterates the argument that the methodology is flawed and says that police do target the more dangerous neighborhoods that have suffered from longer term disinvestment. She adds in an e-mail to Daily RFT (referencing Slay's recent push to divert funds from one department toward cops), "The Mayor is dedicated to crime reduction in all City neighborhoods. It's one reason he's pushing to move vital money from the City cable station into the police department to fund more officers on the street."
SLMPD also fired off these tweets in response to the report:
Send feedback and tips to the author. Follow Sam Levin on Twitter at @SamTLevin.