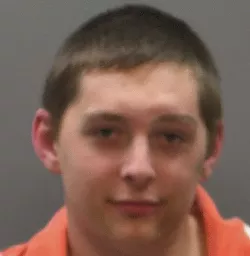 Wentzville Police
Daniel Buck, nineteen.
The things we do for love!
In what appears to be the most romantic local crime of 2013, Wentzville police officials say that Daniel Buck, age nineteen, tried to run away from officers on Friday and embarked on a high-speech chase that ended in his arrest -- at which point he apparently gave police an adorable excuse.
"He didn't want to go to jail, because he wanted to go to prom," Major Paul West of the Wentzville Police Department tells Daily RFT. "That's why he ran."
Buck, it seems, did not get to dance with his girlfriend that night.
He was charged with resisting arrest, fleeing officers, creating a substantial risk of serious injury and more.
West tells us that an officer noticed that the vehicle had active warrants and a revoked driver, and thus attempted to stop the car.
"He tried to pull him over -- but he ran," West says. "An officer chased him and caught him."
See also: - Top Thirteen Skanky Prom Gowns: Definitely Not Mom-Approved (PHOTOS)
The pursuit late Friday night lasted about ten minutes says West, adding that at one point, Buck was driving as fast as 100 miles per hour.
Another mug shot of Buck.
The O'Fallon resident reportedly just missed a utility pole and caused some damage during a reckless chase. The Post-Dispatch says:
Buck saw police behind him and sped up, driving eastbound on McHugh Road at speeds of up to 80 miles per hour. He crossed into the oncoming lane numerous times and drove through a front yard in the 3000 block of McHugh Road.

Buck's vehicle failed to negotiate a turn and went off the roadway, nearly striking a utility pole before returning to the road and heading west to Highway 61. He headed northbound and proceeded at speeds of up to 100 miles per hour.
He apparently admitted to police that he knew his license was revoked and had a handful of warrants for failure to appear on charges.
Send feedback and tips to the author. Follow Sam Levin on Twitter at @SamTLevin.