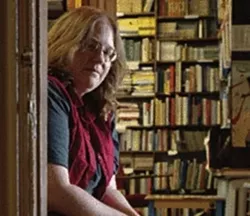 If city officials approve, developers may demolish a beloved book store in a historic Rock Hill house -- and construct storage facilities on the site.
Michelle Barron, owner of the Book House, is trying to spread the word and stop developers and the city from moving forward with a demolition and redevelopment plan that she says could destroy her business.
"There's a lot of history in this house. It's one of the oldest structures remaining in Rock Hill," she tells Daily RFT. "I don't know what we're going to do."
The developer, however, tells us that plans are very premature at this stage -- and that he will do everything he can to help the Book House stay alive.
"We're going to work with her to try and find a solution," Bill Bowman, president of Great Northern Development LLC, tells Daily RFT. "The bottom line is, she wants to stay open, and we want her to stay open."
Bowman, who is based in Michigan and is partnering with Nolan Real Estate Interests LLC, says that they have not received any city approvals for demolition and development -- and that they haven't even formally submitted an application yet.
But when he does submit his proposal, it would likely involve tearing down the house, which Barron says dates back to 1853. It's a two-story gothic revival house with about seven rooms.
"It's one of those older houses, and it's not in the best shape," Bowman says. "And unfortunately, it's impossible to develop around it."
Bowman says he hopes to open up one of his EZ Storage sites where the Book House is currently located off of Manchester Road.
The Book House, which we wrote about in a 2006 feature, has been in business with a lease at that house for over 30 years and does not own the property. She says she has made efforts in recent years to try and buy the property, but has not had any luck. And now, Barron says, it seems likely she will have to leave the historic site altogether for a storage facility. It was especially concerning, she says, when contractors showed up at the house last week to survey the property.
Relocating seems almost impossible says Barron, who is 48 and lives in Webster Groves.
"It would cost a fortune. We'd have to get a loan.... And anything we could get would cost three times as much," she says. "We're just now breaking even and getting back on track from the recession."
The space is important to the business and loyal customers, she adds, noting that some believe it's haunted. "It's magical.... There are ghosts in that house.... There's definitely a presence of the past in that place. There's definitely some sort of spiritual...I don't know how to explain it. It has something about it."
Continue for more of our interview with Michelle Barron and commentary from Rock Hill officials.
Now, Barron says, "They are going to tear everything down and put in a big...storage facility."
via Google Maps
An EZ Storage facility like this could replace the Book House.
At this point, she says, the project seems inevitable, though she is trying to get as many people as she can to speak out to Rock Hill officials and discourage them from supporting the development.
The book store is everything to her, says Barron, who took over when she was 21-years-old. "It saved my life."
Meanwhile, Bowman says he would not rule out the possibility of trying to find somewhere nearby to relocate the house.
Regardless, he says, "We've absolutely indicated that we would work with her to find an alternative location."
His storage facilities are all contained within the structure and result in minimal traffic impacts or other negative consequences for local neighborhoods, he adds.
Bowman explains that he has a "purchase agreement" with the property owner but that it is all contingent upon city approvals, which he has not yet sought. (Daily RFT left a message today with her landlord Rex Stahl and will update if we hear back).
Depending on when an application is submitted, Rock Hill planning officials could reviewing the proposal within the next three months, says George Liyeos, city administrator.
"All discussions have been preliminary," he tells Daily RFT, adding that the city does its best to embrace historical properties, but is limited by the decisions of property owners. "This is something that hopefully we can resolve in a reasonable manner. We recognize [Barron] as being a very, very key part of the community."
Continue for more photos of the Book House.
Jennifer Silverberg for RFT
Send feedback and tips to the author. Follow Sam Levin on Twitter at @SamTLevin.