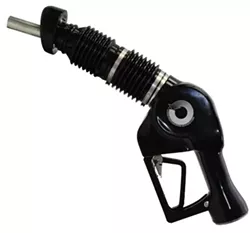 Vapor trail: Nozzles like this one are slowly vanishing in St. Louis.
They've been around for well over a decade, but now the accordian-like bibs on gas nozzles at metro St. Louis gas stations are headed toward extinction.
Last year the EPA determined that the vapor-trapping nozzles are no longer needed because most cars on the road these days come equipped with devices that stop petroleum vapors from escaping the gas tank. Also, the Missouri Department of Natural Resources has determined that removing the vapor nozzles will have no negative impact on air quality.
Last month the DNR gave permission for gas stations in the metro region (St. Louis, St. Louis County, Jefferson County, Franklin County, St. Charles County) to remove the nozzles, and they're already coming off at the 30 area Mobil on the Run stations owned by Wallis Companies.
"From an operator's expense, there is definitely an expense [in removing the vapor nozzles]," says Tracey Hughes with Wallis Companies. "But the tradeoff is lower repair and maintenance costs over time."
More than that, though, Hughes says consumers favor pumps without vapor nozzles, which could prove difficult to operate (especially when trying to fill up a gas can) and were prone to malfunction.
"That's what's really driving our conversion," says Hughes. "In general, customers find it easier to fill up without the nozzle attachment."