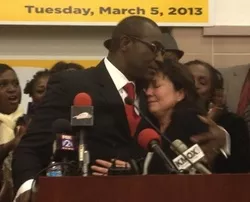 Sam Levin
Lewis Reed on election night.
When a Lewis Reed press release slamming Mayor Francis Slay arrived in Daily RFT's inbox earlier this week, we had a serious sense of déjà vu -- especially because it was sent out by Glenn Burleigh, Reed's former campaign manager. Reed, president of the St. Louis Board of Aldermen, lost his mayoral bid in March, and Slay's historic fourth term is now underway.
So why is he still sending out campaign-like press releases two months after the fact?
"One thing Lewis learned from his last race is he needs to have some kind of media operation going all the time," Burleigh tells Daily RFT. "The mayor does."
And what will that new press strategy look like?
See also: - Lewis Reed V. Francis Slay: Top Ten Craziest Campaign Fights in Mayor's Race - Nasheed for Francis Slay: Vote Jimmie Matthews if You Don't Like the White Mayor - Francis Slay v. Lewis Reed: Slavery Image on Film Flyer Sparks Controversy
For one thing, this media effort adds some weight to Reed's statements that he will run again for mayor in 2017. Reed has also publicly stated that he will run for reelection as president of the Board of Aldermen in 2015.
And as he looks ahead to these races, it seems he'd like to have a more consistent, well-oiled press machine to support him.
"One of the things that Lewis faced a lot in the race was that the generally accepted version of events differed drastically than Lewis's," Burleigh says.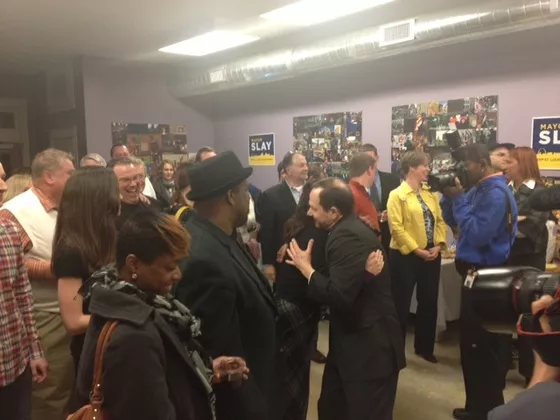 Sam Levin
Francis Slay's reelection party.
Burleigh will now now be functioning as a regular spokesman for Reed, who typically has not had a dedicated communications director other than his staff members who help him respond to press inquiries.
Burleigh, who stepped up as his campaign manager in January after Reed dropped his former manager, says he'll help get Reed's message out when there are conflicts.
As we chronicled here, the primary race was fairly contentious at times with both sides bickering about issues far removed from policy discussions and reporters caught in the middle.
That tension, it would appear, will become more regular in the day-to-day politics of the mayor's office and the board of aldermen.
Continue for more on Lewis Reed's revamped media operation.
In his first post-election press release of this nature -- about a budget dispute this week regarding proposed cuts to the city's communications department -- Burleigh signed his e-mail with "Lewis Reed for President of the Board of Aldermen."
Sam Levin
Lewis Reed.
"The mayor's machine is always kicking," Burleigh says. "Lewis is going to have a much more active political arm."
In March, when we asked Reed about his relationship with Slay moving forward, he replied:
If you get to the point where you're not supporting something, because of the person that's bringing it, then you need to leave office.... [As an elected official], you are a representative of the people.... What I'm gonna continue doing is what I've always done. If the issue is an issue that I support, if it's a good idea, then I'm gonna support it. I'm gonna work on it.... If it's not, then I'm gonna raise questions about it.
And when we asked Slay about his relationship with Reed, the mayor replied:
Lewis Reed and I worked together for many years. Recently, he decided to run for another job, and he was solidly defeated. I believe that both of us are ready to get back to work for the people of St. Louis. I certainly am.
Any follow-up questions? Just ask their spokespeople.
Send feedback and tips to the author. Follow Sam Levin on Twitter at @SamTLevin.