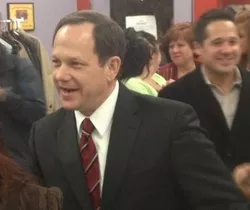 Sam Levin
Francis Slay on election night.
Board of Aldermen President Lewis Reed is attacking Mayor Francis Slay with a press release that feels very much like it's election season all over again. Slay, who had his formal inauguration last week -- kicking off his historic fourth term -- has proposed to cut funding to the city's official cable television channel and divert those funds to the police budget.
Reed, who lost in his primary race to unseat Slay, is now slamming the move as a poorly thought out proposal that would decrease government transparency.
The response from the mayor's office is simple: Cops and crime-reduction efforts are just more important than a television channel.
At the center of this dispute is STL TV, the channel that is part of the city's communications department. Slay has proposed to cut the $900,000 funding of that cable operation to help pay for thirteen police officers and a full-time employee of the health department.
"This...is about setting priorities and the mayor's number one priority is to reduce crime," Maggie Crane, Slay's spokeswoman, tells Daily RFT. "The mayor says we need to put that money where it will have the biggest impact. He believes that lies in the...police department."
Sam Levin
Lewis Reed delivering his concession speech in March.
Reed's attack comes in the form of a news release fired off by his former campaign manager Glenn Burleigh, who says he is now continuing on as his spokesman. (Reed has said he will seek re-election as president of the Board of Aldermen, which would happen in 2015 and does plan to run again for mayor in 2017. Slay has not ruled out a 2017 bid for a fifth term).
Reed's statement says:
As far as I'm concerned, public safety is job #1 in St. Louis, but the Mayor's idea to close the Communications Department is not the solution. We need to be addressing our public safety needs, but with a comprehensive approach. I believe that means utilizing the Communications Department to its full capacity. For many of our older citizens, the city's cable channel is their primary way of knowing what's going on in our city's government, which is a vital public service. I think that we should be expanding its public safety role to keep citizens greater informed about crime trends and what they can do to assist the STLMPD in more effectively fighting crime in their neighborhoods. Closing the Communications Department would also work directly against increasing transparency in government, and I think our citizens deserve to be informed.
But crime remains the primary concerns of city residents, Crane says. "You hear nothing, not positive nor negative [about STL TV]."
Despite the lack of support from Reed and Comptroller Darlene Green for these cuts, the mayor's office still hopes to get it passed and move that funding over to the police department.
Continue for more commentary from Reed and the mayor's office.
"The mayor is not going to give up on this," Crane says. "Should we spend a million dollars on a cable channel or cops and health in the city? The mayor has vowed for a safer, healthier city. He ran on that platform and said it again in his inauguration.... We'd love to be able to keep [the channel].... This solely has to do with priorities."
Under his proposal, the city will still be able to stream city meetings online.

Burleigh, however, says there are other options. "Lewis is saying we need to...look at what some of the potential funding alternatives are...instead of going after this one department."
He says, "Can we fill the gaps through other means?"
"We think that the mayor is just rushing the decision without doing his due diligence," he adds.
Burleigh argues that the math does not add up -- and Reed's statement says that a proposed police restructuring could save these jobs yet "the Mayor still seems determined to close the Communications Department.
Meanwhile, Richard Callow, who managed Slay's reelection campaign, tweeted this in response to our tweet about the Reed press release:
Send feedback and tips to the author. Follow Sam Levin on Twitter at @SamTLevin.