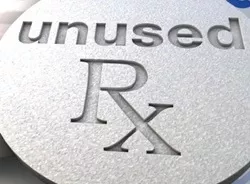 via SLMPD
Give up your drugs!
Got drugs? The city of St. Louis wants 'em.
In an effort to curb medication abuse, city officials are partnering this week with the St. Louis College of Pharmacy and the U.S. Drug Enforcement Administration to encourage residents to remove "dangerous, unused and unwanted medications" from their homes.
Experts say that abuse of prescription meds leads to use of serious narcotics like heroin and cocaine.
It's the "drug take-back" initiative. How can you dump your drugs? Details below.
Officials are unveiling the St. Louis Medication Disposal Initiative at a press event this morning featuring Mayor Francis Slay, a DEA special agent, a St. Louis College of Pharmacy professor and a recovering heroin addict.
"Too many young people are too easily getting their hands on drugs found right inside our medicine cabinets," Slay says in a statement. "Turning in those expired or unused medications to be properly disposed is a simple and convenient way to protect our kids and our environment."
Officials point out that each day, nearly 3,000 teenagers abuse a prescription drug for the first time, according to a federal government survey.
The Centers for Disease Control and Prevention classifies prescription drug abuse as an "epidemic." Nearly one-third of people age twelve and over who used drugs for the first time began by using a prescription drug for non-medical purposes, according to data from the National Survey on Drug Use and Health.
So this Saturday, April 27, get out your drugs and help fight the epidemic! Residents can take unwanted prescription and over-the-counter medications to designated disposal sites from 10 a.m. to 2 p.m, including these participating Walgreens locations:
4218 Lindell, St. Louis, MO 63108;
3822 S. Kingshighway, St. Louis, MO 63109;
1530 Lafayette, St. Louis, MO 63104;
3720 N. Kingshighway, St. Louis, MO 63115
It's anonymous, no questions asked.
Proper disposal also helps limit these meds impacting our water supply, which we want to make sure stays as clean as possible.
Send feedback and tips to the author. Follow Sam Levin on Twitter at @SamTLevin.